PHOTOS
Deborah Gibson Remembers Michael Jackson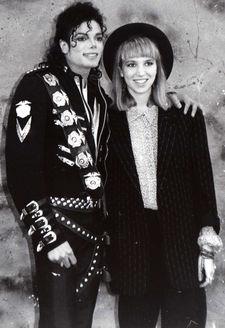 Deborah Gibson was one of the lucky stars to appear in Michael Jackson's Liberian Girl video in 1989. (See clip!)
The onetime teen queen, 38, opens up about her experience with the King of Pop days after his tragic death at age 50.
"I met Michael and he told me he had just watched a Disney special I did," Deborah, who topped the charts with Lost In Your Eyes, Foolish Beat, Shake Your Love, Out of The Blue and Only In My Dreams, tells me. "I was blown away by the thought of the Michael Jackson sitting there watching me on TV. He then invited me to be in his Liberian Girl video. I actually was one of the few who got to sing a little snippet live over his vocal. To say it was an honor is an understatement."
Article continues below advertisement
Before the Long Island sensation caused a fashion craze of her own with her signature black hat in the late 1980s, she remembers emulating the musical genius.
"At 14, I had the red jacket and glove," Deborah shares. "I was a huge fan. He was a sweet person and lived up to everything you wanted him to be when you met him. He had a receiving line an hour long before his concert at the Forum. To personally meet so many people and then put into his show the energy he put in was astounding."
Her heart goes out to the Jackson family.
She says, "I don't think it's about the time someone is on earth but the impact they leave. He did more for humanity and for music in 50 years than anyone could. It's a shock and I'm most saddened by the fact that a) I believe there was more music in him and b) he leaves behind three young children. Everyone feels this immeasurable loss. He was an American treasure."
MORE ON:
Red Carpet Confidential
SEE MORE PHOTOS OF MICHAEL JACKSON: