PHOTOS
Diddy, Beyonce, Mariah Pay Tribute At 'Notorious' Premiere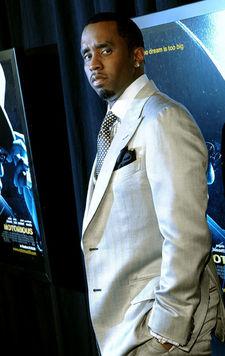 Stars turn out in full force for the Notorious premiere held Wednesday at NYC's AMC Lincoln Square, but Beyonce and Jay-Z drift in the side entrance and Mariah Carey and Nick Cannon sneak through the back door.
The superstars are simply being cautious given the circumstances surrounding the debut of the movie paying tribute to the life and death of rapper Notorious B.I.G., who was gunned down in 1997 after attending the Soul Train Music Awards in Los Angeles.
Article continues below advertisement
Lil' Kim is unhappy about her portrayal and is threatening to expose the secrets of Biggie's mom, Voletta Wallace, who says she has nothing to hide, laughing "I was exposed many years ago when I gave birth."
Voletta adds, "It reveals a lot about my son that I don't like, but I still love him." What would surprise us about Biggie? "He was a manipulator." She gives her stamp of approval to Angela Bassett's performance of her.
Naturi Naughton, the former 3LW singer who plays Kim, confirms the controversy. "It is true, naturally, I'm not going to front," she tells me. "But I hope she enjoys my performance because I put my heart into this. It was hard because you're trying to appease the fans – they want to see a replica of what they're used to – and you're trying to appease the person because they see themselves in a different way. It's a challenge."
Article continues below advertisement
As the story goes, Kim had an affair with Biggie (born Christopher Wallace) while he was married to Faith Evans.
Dealing with the loss of her husband and father of her son Christopher doesn't get easier for Faith Evans. She struggles to help others when they are grieving.
"You never get over it," Faith tells me. "Even when I meet people who have gone through the loss of a loved one, I don't know what to say even though I went through it -- other than I'm praying for you, and keep your head up. I think it's such a personal thing – you can only be there in the sense that you know that they need you. Just be there when you're needed. Just keep yourself focused on your higher power, and keep yourself in prayer."
After B.I.G. was killed, his good friend Puff Daddy recorded I'll Be Missing You dedicated to his memory.
Of course, the artist now known as Diddy has no beef with how he was portrayed by Derek Luke.
"I think Derek did a great job," Diddy says. "I think everybody on there did an excellent job. I would get chills when I was around them. I would have to actually leave. At the end of the movie, it broke my heart. My heart is broken every day with Biggie not being here, and it just opened it up even more so."
Article continues below advertisement
The father of four -- who is also an actor -- doesn't feel dissed because he didn't want to play himself.
"I get to play myself every day," Diddy laughs. "I'm looking for roles that would be a stretch for me, and playing myself is probably one of the hardest things to do. But I wanted the movie to not be about me. I wanted the movie to be about Biggie. And I'm looking to play roles that are not myself and are foreign to what I do every day."
He adds, "I don't know how many people who have had a movie that is made about them while they're still young – it's kind of hard when you're young, because you're looking at yourself and it's something you would expect to happen when you're older. I don't know if I was mature enough to really handle it, and I still don't know if I'm mature enough to handle it."
Ginger Kroll, who plays another woman who has an affair with Notorious B.I.G., definitely would not cheat after this part.
Article continues below advertisement
"There are consequences," she tells me. "I was punched in the face and had this big fight scene. It's not a good idea. I don't recommend it. I'm not a cheater, so I wouldn't have been in that situation to begin with, but seeing the consequences of this film, even doubly so."
Jamal Woolard, who suffers from diabetes, defied doctor's orders to portray Notorious B.I.G. "I got up to 340 because I really wanted to win the role. I just ate everything in sight." Also: he stuffed his bottom lip with cotton balls. "I put the cotton balls right here in front of teeth because B.I.G. had something extra right here. We went Marlon Brando-style with the cotton balls."
Anthony Mackie, who plays Tupac, says the rapper who was gunned down in 1994 would be "very pleased" with the Obama administration. (His 1990s tune Changes includes the line "We ain't ready -- to see a black president.")
Fabolous shares lessons learned from Biggie's life and death.
"Life is precious," he tells me. "You see someone who's had so much great success – they could be here today, and gone tomorrow. Just the same as a regular person. He was a celebrity who represented being down-to-earth. He still went through the same trials and tribulations as regular people go through."
Article continues below advertisement
Actress Melinda Williams remembers when Notorious B.I.G. was shot.
"I was in Jerry's Famous Deli in L.A. at the time, and it's directly across the street for Cedars-Sinai Hospital. Some guys came in saying 'Biggie's dead, Biggie's dead' and that's certainly one of the worst nights I remember."
Mary J. Blige pats Angela Bassett on the back, saying "you look so beautiful" as Ciara, Ice-T and Coco, and Russell Simmons head into the screening.
Notorious is in theaters January 16.