PHOTOS
Dining With KT Tunstall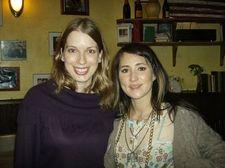 When KT Tunstall and I meet up at NYC's Pink Pony, she's joined by pal Ebenezer Bond.
"We met when I went to boarding school in Connecticut for a year," the Scottish-born singer, 33, tells me. "He was the guitarist in my first ever band. We would do gigs at school in little cafes. I see him every time I'm in New York."
Even as KT, who wed Luke Bullen in September, shot up the charts with Black Horse & The Cherry Tree and Suddenly I See, she has remained grounded.
Article continues below advertisement
"The one thing I think both of us would say about the other is that we absolutely haven't changed that much since we were 17. Both of us don't really want to conform to the traditional idea of life being set out for you and that there's certain paths that you have to follow. Both of us very much feel that you make your own reality."
In this OK! outtake, KT dishes on food.
What do you love about this restaurant?
This place is my favorite because it looks like it hasn't been touched for sixty years. It's actually really hard to find that now where you find that authenticity in a restaurant where it's not been upgraded and made fancy. It seems very artistic and it's absolutely beautifully done out. You don't have to look at everything if you don't want to, but if you do, there's just so many things. There's beautiful quotes on the wall, fantastic pictures, books everywhere. The other day we were spotting books that had the same titles as my song titles. As you can see, it's really laidback. There's no kind of uptightness about it. It's got a very artistic feel to it.
Article continues below advertisement
I have to say that this place is where you would get the best hot chocolate in New York. I was just speaking to the waitress today, and they actually receive huge slabs of chocolate and they shave chocolate into a cup and then actually melt the chocolate. It's not powdered. It really is one of the best hot chocolates I'd had.
Best food memory?
My best food memory would be my mother's sherry trifles.
My dad is a physicist and my mom is a school teacher -- very academic people. The real trend when I was young and my dad was at university was that the academic community would have dinner parties.
I would hear everybody discussing, chatting and debating until 2 or 3 in the morning, lying in my bed. I used to love hearing all the chatter upstairs.
But my mom would make these amazing desserts for the dinner party.
She would always make homemade ice cream with cherries and chocolate chips and nuts. She'd also make sherry trifles.
I love custard. I actually got called Katie Custard when I was a kid because I had a bit of a problem with the custard.
One night, I sneaked upstairs and finished off quite a large remainder of sherry trifle, and subsequently got horrendously ill in the middle of the night. 'That'll teach you for eating too much trifle,' my mom said.
It was a boozy trifle.
What foods are your favorites?
I love very simple, well-cooked, fresh ingredients. Italian food is probably my favorite. I love Japanese also. And here, and it's the same in London, one of my favorite places in London is called The Albertine. It's very similar to Pink Pony. You kind of feel like your dinner's been cooked by your mom. It's very, very home-cooked.