PHOTOS
Duane 'Dog' Chapman's Daughter Lyssa Is Arrested In Hawaii For Harassment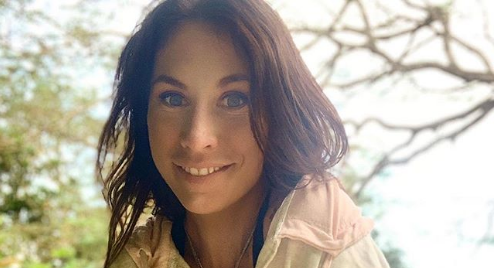 Duane "Dog" Chapman's daughter Lyssa Chapman was arrested in Hawaii for harassment and resisting arrest on Thursday, January 30, OK! can confirm.
Article continues below advertisement
The 32-year-old was in jail for 25 minutes before being bailed out. According to Page Six, her bail for the harassment charge was $500 while it was $100 for resisting arrest.
Shortly after her arrest, the mother of two posted a cryptic message on Twitter. Alongside a cartoon of a woman from the 1950s, she wrote, "Keeping it classy #pinkiesup."
Article continues below advertisement
Things have been rocky for the Dog the Bounty Hunter star, 66, and his family. Dog proposed to his girlfriend Moon Angell earlier this month, but Lyssa wasn't too happy about it. He got down on one knee during an episode of the Dr. Oz show.
Shortly after the announcement, Lyssa wrote on social media, "If someone who met your family by dating your brother, tried to date your father after your stepmom died what would you do? If you went to your mother's closet and saw she moved all her clothes and replaced them with her own, what would you do? #ItsNotWhenOrWhyItsWho."
Article continues below advertisement
"My dad is a GROWN A** MAN. His money. His dynasty. But you can guarantee that my name is not going down in history as a person who supported this," she continued.
Moon served as a bridesmaid in Dog and and his late wife Beth Chapman's 2006 wedding. Beth passed away in June 2019 from throat cancer. Dog also admitted in November 2019 that he felt suicidal following his wife's death. "I just hope that I don't live very much longer without her, because now she made the first step, she's through the gate," Duane said on the season finale of his show, Dog's Most Wanted. "She paved a way for me. I want to take a goddamn pain pill so bad."
He added, "I feel like if I did something to myself right now and passed away suicidal and I got to heaven and was like, 'Hi honey,' and would she go, 'You d**k a**, why would you do that?' Or would she go, 'Wow, you're here.' I'll be like 'Of course I'm here. You left me. I'm here.' So, am I obligated to do that?"