PHOTOS
DWTS Watch: Gilles Marini's Secret Injury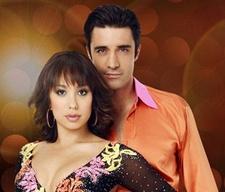 One week after scoring a perfect 30, French hottie Gilles Marini lost his shirt on Monday night's Dancing with the Stars — and that's a good thing! The hunky star, who shot to fame when he bared all in last year's Sex and the City film, showed off his chest and got the crowd on its feet with a dramatic paso doble that earned a 29 — the highest score of the night.
But what viewers didn't know was that Gilles is yet another victim of DWTS' most injury-plagued season. Backstage after the show, he revealed to OK! backstage that his shoulder is killing him—and will require surgery after the season is done!
Article continues below advertisement
"We never talked about it on the show tonight. I hurt so bad—my shoulder—that I need surgery," Gilles said. "I have a separated shoulder. My best friend is Advil."
And, with Gilles now this season's clear leader, the show must go on. His devoted pro partner Cheryl Burke explained, "The doctor said he'll be fine until the show's over."
Of his intense performance Monday night, Gilles could only say, "It was a big blur." For her part, Cheryl remembered "the audience screaming so loud — louder than any of the seasons I've been on. They were crazy."
Meanwhile, the show's other frontrunner, former Bachelor babe Melissa Rycroft, faltered when a wardrobe malfunction caused her to lose her footing while performing the paso doble with partner Tony Dovolani.
Pointing to the bottom of her red skirt, she said, "There's a hole that my heel got caught in during one of the parts. Thankfully, I didn't fall." However, they got an uncharacteristically low score of 25.
Article continues below advertisement
Tony said, "I know she's angry with herself right now."
And Melissa herself told OK!, "We got through it. It wasn't with the flying colors I was hoping for."
Shawn Johnson and partner Mark Ballas fared a little better, scoring a 26 on their Viennese waltz. The gymnast told OK! about her glamorous, grown-up ballroom look, "I love it. I look in the mirror and go, 'That's not me.' But this is the new Shawn Johnson!"
Lil' Kim and her partner Derek Hough, who have been slowly but surely inching up in the competition, also earned a 26 for their Viennese waltz. "I wasn't expecting the scores I got," Lil admitted to OK!. "I felt very good!"
Comedian David Alan Grier, who earned a 22 for his Viennese waltz with partner Kym Johnson, told OK! he's lost 28 pounds during DWTS. "I think I'm stalled at the 28 pounds but I have to get over 30. I'm panicking. I need to stay on the show a few more weeks. It's like being in rehab, Celebrity Sober House. I'm not ready. We want to dance some more."
Article continues below advertisement
Bringing up the rear once again, Steve-O received the lowest score of the night, an 18, for his Viennese waltz with partner Lacey Schwimmer. But on the positive side, he finally got some kind words from the judges for his mime-inspired dance.
"I relaxed a lot more," he admitted. "I wasn't so nervous and intense."
Meanwhile, Lacey, well known for her Goth-style black hair, has lightened it to more of a chestnut brown "I kind of felt like in a weird way since I lost weight, I had a new confidence in myself and wanted it to be a little more natural," she told OK!
Cowboy Ty Murray and partner Chelsie Hightower only roped in a 21 for their paso doble. "We didn't do as good as we could have," Ty said. "But we didn't fall down and forget the dance." Judges bashed him as robotic and Ty admitted his "heart was beating really fast" during the performance. "Tonight, my fluidity got left out."
Tune in Tuesday night to see who makes the cut!
By Carole Glines