PHOTOS
Dying Jade Goody Nursed Imaginary Baby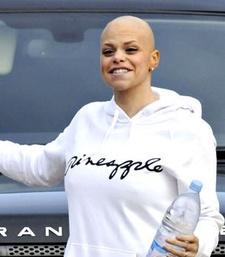 In a new, exclusive interview, the husband of recently deceased UK reality star <a href="https://okmagazine.com/search/goody" target="_blank"><strong>Jade Goody</strong></a> has revealed intimate details of his wife's tragic final days, including the fact that she nursed an imaginary baby in her arms.
As Jade spent her last mortal hours drifting in an out of consciousness, Jack Tweed slept on the floor in her room so he could be near her. "Sometimes Jade would wake up and think she was nursing a baby in her arms," he tells the UK edition of <em>OK</em>!. "She'd tell me to be quiet so I didn't wake the baby. I used to go along with it and pretend to take the baby and call Jackiey Budden, Goody's mother in and pretend to give the baby to her... I'd then ask Jade whether she was okay and she'd say, 'Yes that's fine, now I can sleep.'"
Article continues below advertisement
Jade's last words to Jack, whom she married only weeks earlier, were about pineapples, the only food she ate in the days leading up to her death on March 22, which was Mother's Day in the UK.
Jack tells <em>OK</em>! that Jade had left him nothing in her will, instead bequeathing all her money to her two sons, Bobby and Freddy.
"I never took anything from Jade and I don't want anything from her now," he said. "I just want her. Jade asked me whether I wanted half the money from the wedding, but I said to give it to the boys because I wanted her to know they had a secure future."
On one occasion during her last week, Goody woke up and started singing. "The hardest part was seeing her suffering," Jack recalls. "I just wanted to make her better. I just want her to be here, I want to go on holiday with her and just muck about with her like we used to do."
Jade's funeral is being held on Saturday.
REMEMBERING JADE GOODY:
<a href="http://www.okmagazine.com/pixandvids/gallery/12712/1" target="_blank"><img src="https://d-images.okmagazine.com/img/photos/large/24001.gif" width="74" height="100"/></a> <a href="http://www.okmagazine.com/pixandvids/gallery/12712/2" target="_blank"><img src="https://d-images.okmagazine.com/img/photos/large/24000.gif" width="74" height="100"/></a> <a href="http://www.okmagazine.com/pixandvids/gallery/12712/3" target="_blank"><img src="https://d-images.okmagazine.com/img/photos/large/23999.gif" width="74" height="100"/></a> <a href="http://www.okmagazine.com/pixandvids/gallery/12712/4" target="_blank"><img src="https://d-images.okmagazine.com/img/photos/large/23998.gif" width="74" height="100"/></a> <a href="http://www.okmagazine.com/pixandvids/gallery/12712/5" target="_blank"><img src="https://d-images.okmagazine.com/img/photos/large/23997.gif" width="74" height="100"/></a>
Article continues below advertisement
<a href="http://www.okmagazine.com/pixandvids/gallery/12712/6" target="_blank"><img src="https://d-images.okmagazine.com/img/photos/large/23996.gif" width="74" height="100"/></a> <a href="http://www.okmagazine.com/pixandvids/gallery/12712/7" target="_blank"><img src="https://d-images.okmagazine.com/img/photos/large/23994.gif" width="74" height="100"/></a> <a href="http://www.okmagazine.com/pixandvids/gallery/12712/8" target="_blank"><img src="https://d-images.okmagazine.com/img/photos/large/23993.gif" width="74" height="100"/></a> <a href="http://www.okmagazine.com/pixandvids/gallery/12712/9" target="_blank"><img src="https://d-images.okmagazine.com/img/photos/large/23992.gif" width="74" height="100"/></a> <a href="http://www.okmagazine.com/pixandvids/gallery/12712/10" target="_blank"><img src="https://d-images.okmagazine.com/img/photos/large/23991.gif" width="74" height="100"/></a>
<a href="http://www.okmagazine.com/pixandvids/gallery/12712/11" target="_blank"><img src="https://d-images.okmagazine.com/img/photos/large/23990.gif" width="74" height="100"/></a> <a href="http://www.okmagazine.com/pixandvids/gallery/12712/12" target="_blank"><img src="https://d-images.okmagazine.com/img/photos/large/23989.gif" width="74" height="100"/></a> <a href="http://www.okmagazine.com/pixandvids/gallery/12712/13" target="_blank"><img src="https://d-images.okmagazine.com/img/photos/large/23988.gif" width="74" height="100"/></a> <a href="http://www.okmagazine.com/pixandvids/gallery/12712/14" target="_blank"><img src="https://d-images.okmagazine.com/img/photos/large/23987.gif" width="74" height="100"/></a> <a href="http://www.okmagazine.com/pixandvids/gallery/12712/15" target="_blank"><img src="https://d-images.okmagazine.com/img/photos/large/23986.gif" width="74" height="100"/></a>
Article continues below advertisement
<a href="http://www.okmagazine.com/pixandvids/gallery/12712/16" target="_blank"><img src="https://d-images.okmagazine.com/img/photos/large/23985.gif" width="74" height="100"/></a> <a href="http://www.okmagazine.com/pixandvids/gallery/12712/17" target="_blank"><img src="https://d-images.okmagazine.com/img/photos/large/23982.gif" width="74" height="100"/></a> <a href="http://www.okmagazine.com/pixandvids/gallery/12712/18" target="_blank"><img src="https://d-images.okmagazine.com/img/photos/large/23975.gif" width="74" height="100"/></a> <a href="http://www.okmagazine.com/pixandvids/gallery/12712/19" target="_blank"><img src="https://d-images.okmagazine.com/img/photos/large/23974.gif" width="74" height="100"/></a> <a href="http://www.okmagazine.com/pixandvids/gallery/12712/20" target="_blank"><img src="https://d-images.okmagazine.com/img/photos/large/23973.gif" width="74" height="100"/></a>
<a href="http://www.okmagazine.com/pixandvids/gallery/12712/21" target="_blank"><img src="https://d-images.okmagazine.com/img/photos/large/23972.gif" width="74" height="100"/></a> <a href="http://www.okmagazine.com/pixandvids/gallery/12712/22" target="_blank"><img src="https://d-images.okmagazine.com/img/photos/large/23971.gif" width="74" height="100"/></a> <a href="http://www.okmagazine.com/pixandvids/gallery/12712/23" target="_blank"><img src="https://d-images.okmagazine.com/img/photos/large/23970.gif" width="74" height="100"/></a> <a href="http://www.okmagazine.com/pixandvids/gallery/12712/24" target="_blank"><img src="https://d-images.okmagazine.com/img/photos/large/23969.gif" width="74" height="100"/></a> <a href="http://www.okmagazine.com/pixandvids/gallery/12712/25" target="_blank"><img src="https://d-images.okmagazine.com/img/photos/large/23968.gif" width="74" height="100"/></a>
<a href="http://www.okmagazine.com/pixandvids/gallery/12712/26" target="_blank"><img src="https://d-images.okmagazine.com/img/photos/large/23967.gif" width="74" height="100"/></a> <a href="http://www.okmagazine.com/pixandvids/gallery/12712/27" target="_blank"><img src="https://d-images.okmagazine.com/img/photos/large/23966.gif" width="74" height="100"/></a> <a href="http://www.okmagazine.com/pixandvids/gallery/12712/28" target="_blank"><img src="https://d-images.okmagazine.com/img/photos/large/23965.gif" width="74" height="100"/></a>