PHOTOS
Elisabeth Hasselbeck: Surprise, I'm Pregnant!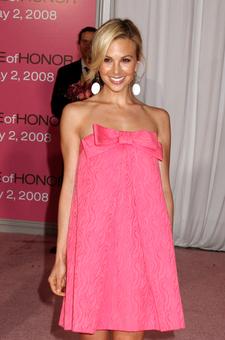 The View might have gotten pretty heated during the election, but this morning the ladies were all abuzz about babies, as Elisabeth Hasslebeck revealed she's expecting her third child with husband Tim Hasselbeck.
"I'm pregnant again!" she announced to her fellow co-hosts, joking, "I'm due in August. I'll try to pop this one out before we leave on summer hiatus, Barbara."
The newest addition to the Hasselbeck family will join older siblings Grace, 3, and Taylor Thomas, 1, in the nursery. Elisabeth says that she and her hubby had no idea their family would be growing so soon.
Article continues below advertisement
"We were thoroughly happy with the surprise of it," she said. "I didn't even know for two months." In fact, the outspoken youngest member of The View team even attributed her fatigue to all the political goings-on, instead of impending motherhood, admitting, "I was knocked up and didn't realize it!"