PHOTOS
Ellen Pompeo Preggo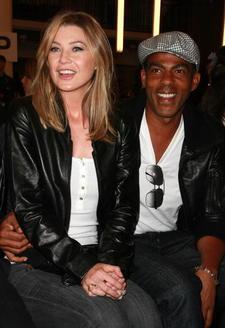 Congratulations to Grey's Anatomy star Ellen Pompeo and her hubby Chris Ivery, who announced over the weekend that they're expecting their first child together!
The good news was confirmed to Eonline.com by a rep for the 39-year-old star, who married her music-exec beau in 2007.
And you can expect that Chris will be heavily involved in the preparations for the little one. When OK! recently spoke to Ellen about how the couple keeps their relationship fresh, she explained, "We never try to be apart — we go everywhere together... I think that if you marry someone you're madly in love with, then that's all that matters."
Article continues below advertisement
After the news broke, Ellen was photographed shopping at a West Hollywood Whole Foods with a barely-there baby bump:
<a href="http://www.okmagazine.com/pixandvids/gallery/13339/1" target="_blank"><img src="https://d-images.okmagazine.com/img/photos/large/26237.gif" height="100"/></a> <a href="http://www.okmagazine.com/pixandvids/gallery/13339/2" target="_blank"><img src="https://d-images.okmagazine.com/img/photos/large/26236.gif" height="100"/></a> <a href="http://www.okmagazine.com/pixandvids/gallery/13339/3" target="_blank"><img src="https://d-images.okmagazine.com/img/photos/large/26235.gif" height="100"/></a> <a href="http://www.okmagazine.com/pixandvids/gallery/13339/4" target="_blank"><img src="https://d-images.okmagazine.com/img/photos/large/26234.gif" height="100"/></a> <a href="http://www.okmagazine.com/pixandvids/gallery/13339/5" target="_blank"><img src="https://d-images.okmagazine.com/img/photos/large/26233.gif" height="100"/></a>