PHOTOS
The Eminem vs. Bruno Incident Was A Fake!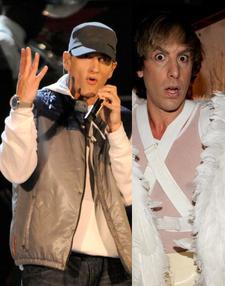 Okay -- the speculation is officially over.
We're relieved to say that everyone can now stop theorizing over whether or not Eminem knew that Sacha Baron Cohen was going to plant his butt in his face from a great height during the MTV Movie Awards on Sunday.
He did. It was all a big stunt.
A chief writer on the show has admitted on his Tumblr (it's like Twitter) that it had all been carefully planned out during rehearsals.
Article continues below advertisement
Check out the pics of the incident below:
"Yes, the Bruno/Eminem incident was staged. That's all anyone wants to talk about, so let's get it out of the way. They rehearsed it at dress and yes, it went as far as it did on the live show then," wrote Scott Aukerman.
But according to blog Animal, it seems that someone (MTV, perhaps?) wasn't too pleased about Scott's revelation. The post was quickly deleted.