PHOTOS
Emma Roberts Grows Up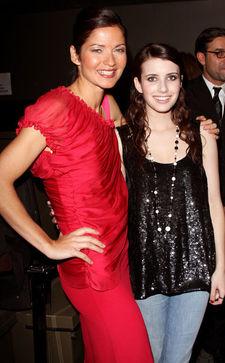 It's sheer madness at the Gen Art Film Festival premiere of Lymelife held Wednesday at NYC's Visual Arts Theater.
Alec Baldwin plays a workaholic dad going through a divorce in the coming-of-age drama set during a Lyme disease outbreak in the 1970s. The 30 Rock star got his teeth kicked out during a scene. "I have a huge mouth guard I wear now," he says.
That's not the only tension point.
Emma Roberts, 18, experiences her first love scene with Rory Culkin, who looks like a carbon copy of brother Macaulay.
Article continues below advertisement
"It was very delicate," director Derick Martini tells me. "We wouldn't allow anyone on the set. The monitors were all off, and it was just me, the camera, Emma and Rory in the room. She's a marvelous actress, and when you give her a good idea, she runs with it, so it wasn't hard at all. She actually hit it every single time. We did it in one or two takes."
Was she nervous?
"I'm certain she was, but more anticipatory anxiety," the director says. "Whatever anxiety she had worked for the scene."
Here comes Emma, who playfully shuns questions about her note-exchange apology with Nick Jonas at Nickelodeon's Kids Choice Awards several days ago. (She told April's Teen Vogue, "I used to have a crush on Nick, but he's kind of making his rounds in Hollywood, and I don't know if I like that.")
"This is my first role that's a transition to more adult roles," she says. "The script was so well-written, and such a perfect part for me to transition from teen star to more adult films. It's hard to find great material that's not too over-the-top edgy, but still shows you in a different light."
Article continues below advertisement
How does Emma avoid falling prey to the scandals that have befallen her peers a la Miley Cyrus and countless other teen stars?
"I have a really good group of friends that I hang out with all the time," she says. "I have a great family that keeps me grounded. I do my own thing. I don't really try and draw attention to myself unnecessarily."
Jill Hennessy plays Alec's wife. What was that like?
"I had the best time with that guy," she tells me. "He's such a g--damn actor. That's the kind of person you want to work with when the scenes get really intense and terrifying, because he loves to play. He was begging me to hit him harder in scenes. 'Jill, you can do whatever you want to me. Touch me in any area you would like. Let your mind wander with that, by the way.' I love the guy. I've known him for ten years, and he always treated me like gold."
As for his famous temper that he unleashed on his then-11-year-old daughter Ireland, calling her a "thoughtless little pig" in 2007?
"We had to play like we had tempers," Jill says, shunning the notion that Alec is easily angered. "He's one of the sweetest, most incredibly articulate, funniest people I know, and he always has been – even before he did 30 Rock."
Lymelife opens April 8.
SEE MORE PHOTOS IN THE VALERIE GALLERY: