PHOTOS
Emma Roberts Holidays With Aunt Julia, Cousins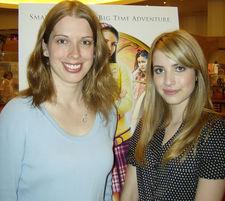 Emma Roberts is having a blast.
Not only is the 17-year-old beauty an accomplished actress and singer, but she's also the niece of Julia Roberts.
How do they spend the holidays together?
"I usually stay at home with my family," the star of January's Hotel For Dogs tells me. "A couple days before Christmas when we get our tree, we all decorate our tree together and have hot chocolate and family time. It's important around the holidays."
Article continues below advertisement
Emma enjoys sleepovers with her twin cousins Hazel and Phinnaeus, 4. (Henry, 1, is too young to join in the parties.)
"We have so much fun running around and playing," she tells me. "We read and play with dolls. We do what normal little kids do. I love them."
For their birthdays last month, she bought them "really cute knit hats." She also gave Hazel a doll, and Phinnaeus a dinosaur painting set.
What's the best advice Aunt Julia has given her?
"I don't really ask her for advice, to be honest. When we're together -- since we don't really get to be together that often -- we have family time."
Hotel For Dogs is in theaters January 23.