PHOTOS
Even Halle Berry Has Guilty Pleasures!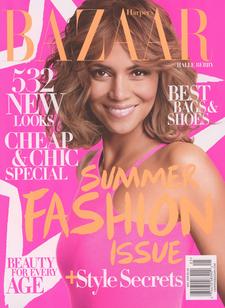 Halle Berry might be over 40, but we think it's safe to say that being the sexiest woman alive—along with having a successful film career and an adorable baby daughter—is a life anyone would envy.
So besides all of that, how does she keep her mojo going?
"I have a 33-year-old man, she tells Harper's Bazaar of partner Gabriel Aubry. "That'll keep your mojo mojo-in'."
Don't expect the stunning star to be taking a trip down the aisle with her hunky model anytime soon, however. Halle says she's over the marriage thing.
Article continues below advertisement
"No. I'm done," she replies when asked if she'll tie the knot again. "Also, I happened to find a person who feels done too, and he's never even been married before. So it works."
As for that famous bod of hers, the new mom to baby Nahla says she has to work at keeping her figure.
"Having a baby takes so much from you. It's the most glorious thing you'll ever do, but the aftermath is not so glorious!" she reveals. "So now I'm having to exercise, eat a little bit differently, take a lot more vitamins."
Halle also explains that she has to watch her food anyway as a diabetic, but she does have one little guilty pleasure food she likes to indulge in while watching TV.
"I like Doritos," she admits. "I'm usually watching The Biggest Loser eating Doritos."
Sounds familiar!
The new issue of Harper's Bazaar hits newsstands April 21.