PHOTOS
Everything You Need To Know About Paula Patton's New Boyfriend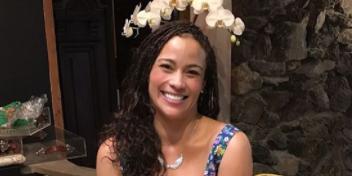 Article continues below advertisement
"I have a boyfriend now," she revealed on Extra. "I haven't called anybody a boyfriend. He's my boyfriend!" While Paula and her mystery man have only been dating for just "a month," the single mom said, "when you know, you know. I love him."
Though she refused to dish the name of her new man, Paula did hint out how the two met.  "If you have a kid and you have a basketball game, look at the daddies," she said, clearly offering advice based on her personal experience. "It's kind of a suburban romance. He's got kids, I got a kid. It's one of those!"  So, he's a single dad, who lives in Los Angeles and has kids who play basketball – gotcha!
Article continues below advertisement
While the 40-year-old actress wasn't ready to go too deep into her love life, she was very open about her new and improved relationship with her ex, even giving their key to smoothly co-parenting. "You have to live in the now," she explained. "You have to forgive. That was then, this is now. You don't have to hold on to anything. You are not doing your children any service... Bring as much peace and harmony to their life as you can."
As OK! readers know, Paula and Robin's road to forgiveness, peace, and harmony was anything but smooth sailing. The exes were involved in a bitter custody battle over their son Julian Fuego Thicke for the majority of last year.
Article continues below advertisement
From what you do know, what do you think about Paula's new boo? Sound off in the comments!