PHOTOS
EXCLUSIVE PHOTO! Angelina Visits the Troops in Iraq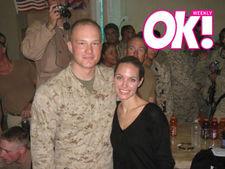 In this exclusive shot, poses with Denver native Lance Corporal Samuel Petersen, 22, of the U.S. Marine Corps. The photo was taken today at Camp Waleed in Iraq, near the Waleed refugee camp that Angelina visited this morning. Petersen's mother, Sue, tells OK! that the Marines at this camp are training the Iraqi police on how to do border patrol.
Angelina left partner and their four children, Maddox, 6, Pax, 3, Zahara, 2, and Shiloh, 15 months, back in New York City. The Goodwill Ambassador jetted to Damascus, Syria, on Monday afternoon to visit a UNHCR registration center and talk to dozens of Iraqi refugees in their homes.
Article continues below advertisement
"I have come to Syria and Iraq to help draw attention to the humanitarian crisis and to urge governments to increase their support for UNHCR and its partners," Angelina said in a statement. "My sole purpose in both countries is to highlight the plight of those uprooted by the war in Iraq."
On Tuesday, the Oscar winner ventured over into Iraq to meet with American and international troops, in addition to the 1,200 refugees stationed at a makeshift outpost, as they are unable to leave the country.
For safety reasons, the 32-year-old made the trip by herself save for Mickey Brett, her head bodyguard, sources tell OK!
Angelina departed for the airport shortly after Brad and the kids' return from their lunch date at Maddox's favorite stomping grounds, Mars 2112. The source adds that Holly, Ange's longtime assistant, is watching the four while the actress is overseas and Brad is at production meetings for his upcoming flick Burn After Reading.
The children were not told where their mother was going, only that she would be gone for a few days.