PHOTOS
Weight Loss Tea, Bikinis, & More! See 'Teen Mom OG' Star Farrah Abraham's Most Shocking Parenting Fails In 9 Clicks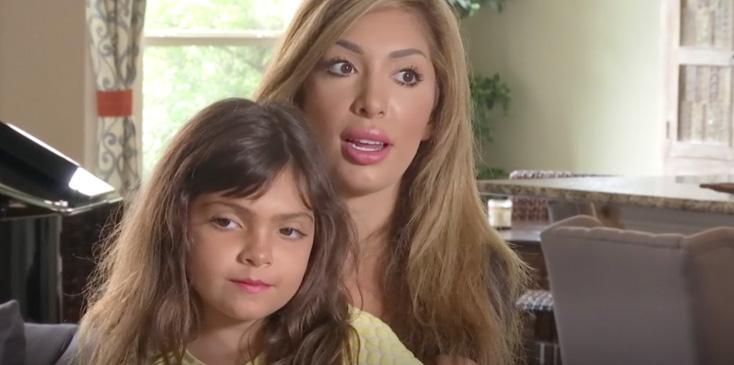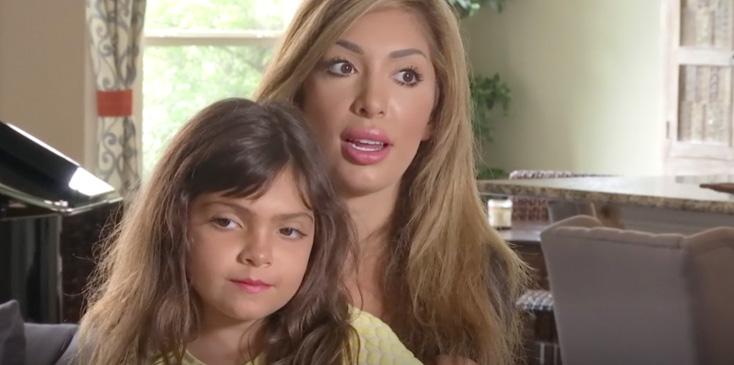 Teen Mom OG Farrah Abraham has a lot of celebrating to do today since it's her daughter's birthday! However, take a look back on moments that she definitely wasn't celebrating over the years as a mother to 8-year-old Sophia.
Article continues below advertisement
Back in summer 2016, Sophia began to worry fans when she asked via Snapchat for people to text her! "Excuse me, you guys are texting me so much could you please stop," she stated in the video. However, Farrah defended her daughter being on the social media app shortly after. "I'm right there," Farrah told RadarOnline.com exclusively. "Seven-year-olds are light hearted when it comes to Snapchat."
School picture day didn't go over that well with Sophia! For her first grade photos, Farrah allowed her daughter to wear make-up, which was quickly criticized. According to Radar, one user wrote, "1st grade and wearing makeup???? We need to raise our children to love and respect who they are the way they are, not mask it with makeup and sh—tloads of surgeries. I get it is just some eye makeup but she's going to think that's the only way to be or feel pretty.... look at her mom... That's the example she is setting for her daughter. Nice...."
Article continues below advertisement
Just a day at the park for Farrah and Sophia ended with furious fans. The mother uploaded a photo of Sophia on a pole making a stripper reference writing, "So this is why the playground is popular – oh boy." Yikes!
Just like most mothers, Farrah lost her patience with Sophia when she was sick on an episode of TMOG. She then called her daughter "too stupid" which was quickly slammed by viewers. In an exclusive interview with Radar, Farrah admitted, "I can be stupid, anyone can act stupid. I keep it real. I'm not allowing my daughter to be spoiled or not responsible for her actions."
Article continues below advertisement
A mini business mogul! Farrah let her daughter open up her own boutique, which raised a lot of eyebrows since she is very young. However, the MTV star defended her choice to allow her to be the boss. "Sophia is definitely a child still. If anything she's showing business can be fun, it can be easy and fun," she said in an exclusive interview with OKMagazine.com. "Sophia will one day run this on her own. She's brought that up to me. She's doing a normal schedule, she's included in everything, but there is a fine line of she's 7 and she will always be 7."
The reality star concerned many fans after she shared an ad photo for a flat tummy tea, featuring her daughter! "Teatime @flattummytea @sophialabraham & I- after all that candy." The reality star has left fans under the impression that the 7-year-old is drinking it as well.
Article continues below advertisement
Mini model! After Farrah shared multiple photos of her daughter posing in a bikini, fans were not happy! However, the mom was quick to defend her parenting choices in an exclusive interview with OKMagazine.com She said, "Everyone is buying swimwear for their kids, all of their kids are wearing it. It's not like it's child pornography, it's not in any disgusting form of way and I just have to say it to that extent."
Shortly after Sophia launched her own Instagram account, people were slamming Farrah for allowing her young daughter to be on the app! "So we actually had some talks, deep talks and Sophia just loves how I'm fun on my Instagram, my Snapchat. I include her as much as I can, but I do like to keep some things separate. I think that's why it was important to give Sophia her own light," she said to OKMagazine.com
Article continues below advertisement
At just 6-years-old, Farrah shared photos of her and Sophia having some mommy-daughter time with some beauty products! However, fans were not happy to see a young girl in a facial mask and eye gel pads. "Why does a toddler need eye masks?" one user asked according to Radar, as another commented, "I wouldn't want my daughter to have to feel the need to put a facial mask on at such a young age."
Which scandal do you think is the worst? Let us know your thoughts in the comments section!