PHOTOS
'Game Of Throne's Hafthor 'The Mountain' Björnsson Weds 5 Foot 2 Girlfriend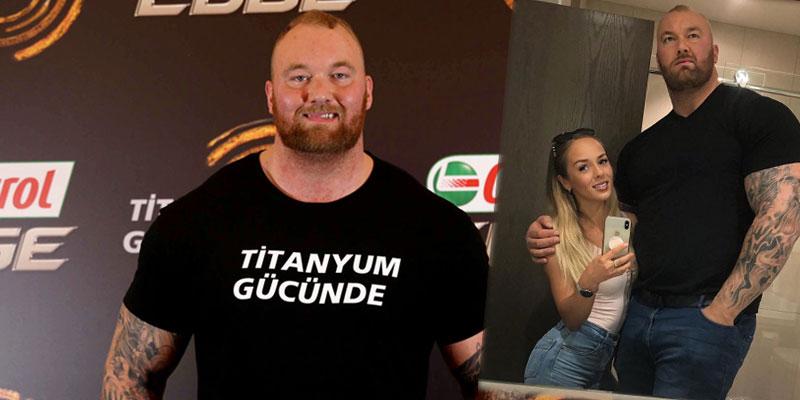 Hafthor Björnsson is a married man! The Game of Thrones star, who plays Gregor "The Mountain" Clegane on the HBO show, wed his girlfriend Kelsey Henson in Iceland over the weekend. The couple is proof that opposites attract, since Hafthor is 6 foot 9, while his new bride is just 5 foot 2!
Article continues below advertisement
Hafthor, 29, shared a photo from the couple's low-key nuptials on Instagram. In the black and white pic, Hafthor holds his bride — who wore an off the shoulder, knee-length white dress — in his arms.
"It is with great pleasure that I now get to call Kelsey Morgan Henson my wife!" he captioned the pic. "I get to hold this beautiful woman through thick and thin for the rest of our lives! I'm so excited for all of the future adventures we will tackle side by side."
Article continues below advertisement
Kelsey, 28, posted another pic from the festivities, in which she walks in front of Hafthor and holds his hand as she looks back at him over her shoulder. "Looking forward to pulling this big guy around for the rest of my life," she wrote.
"I love you now and forever and promise to stand by your side through all that life throws at us. I love you baby!" she added.
Article continues below advertisement
Hafthor and Kelsey reportedly met at a bar in Canada in 2017. Kelsey, who was a waitress there, asked the GoT star for a photo, and the two quickly hit it off and began dating.
What do you think of Hafthor's wedding news? Sound off in the comments below.