PHOTOS
Gilles Marini Talks SATC Sequel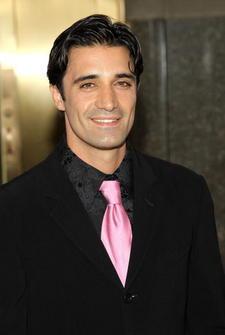 Is there more Sex and the City in Gilles Marini's future?
The hunky actor, who bared all in the hit movie version of SATC, is hoping to reprise his jaw-dropping role for the film's upcoming sequel. And the ladies would love to see more of Gilles as Kim Cattrall's "sex on a stick" neighbor, especially after he's gone on to steam up the dance floor on this season's Dancing with the Stars.
When OK! asked Gilles backstage at DWTS Tuesday night about his possible participation in the SATC sequel, he said it could happen: "There's a lot of talks. I'm not sure what's going on yet. Only SATC writer/director Michael Patrick King will tell me the future in a phone call —'What about this?' And whatever he says, I will say, 'What about YES?!' I owe the movie a lot and I know there's much more to the character to show to the people and we saw one side. We'll see another and whatever he writes, if I am or not, I'm super proud to have been working with him."
Article continues below advertisement
The heavily accented French actor, who has been honing his English, told OK! if he does reprise his role, he might even get — gasp! — more lines!
"Lines will come naturally," he explained. "For example, I did Nip/Tuck with Vanessa Redgrave recently. Playing opposite her was brilliant and yes, there was a lot of lines there. It was emotional and difficult. So, yes, lines are here and offers are here. I just have to show my performing side. I'm ready."
Gilles adored working with Cattrall. "She's very supportive. During very difficult scenes, she's there to tell you, 'Dude, I went through it, and you can make the best out of it. Keep the attitude. You're going to make that character phenomenal.' I went, what? Whoa! She's so far away from this character, Samantha, when you talk to her. She's the nicest, most calm, peaceful person."
So he's really into the idea of his character Dante coming back to seduce Samantha, right? "Hell yes!" Gilles said.
MORE PICS OF GILLES: