PHOTOS
Gwen and Gavin's Book Of Private Pics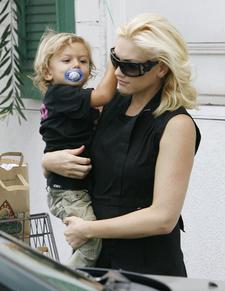 Gwen Stefani is enjoying time with her boys, Kingston, 2, and 2-month-old Zuma, but she's already planning her next venture -- a coffee-table book of private pics.
"They're photos of her family on tour and during her pregnancy, of intimate family moments," a friend of Gwen, 39, tells OK!.
Like diaper duty? "I luck out," said Gavin Rossdale, 40, joking to OK! about avoiding the chore at the 17th BAFTA/LA Britannia Awards on Nov. 6.
Article continues below advertisement
"I glide left, but I am there if I need to be. There are other people better at it!"
Now we're looking forward to seeing whose private snaps are better: Gwen and Gavin's, or that other A-List couple, Brad and Angie.
Brangelina had a set of shots from their family album -- including pics of her breastfeeding -- printed in the style magazine, W, just last month.