PHOTOS
Has Britney Met Mr. Right?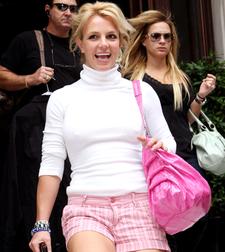 Jun. 19 2009, Published 8:00 a.m. ET
View all comments
Not long ago, Britney Spears was better known for making headlines than making records. But these days, the former showbiz train wreck is chugging along without incident as she wows audiences on her Circus tour. Her signature sass is back, as is her killer body, which is buffer than ever.
Above all, Britney radiates a glow – and for good reason: According to friends, the pop princess has finally found her Prince Charming, longtime friend and agent Jason Trawick.
Article continues below advertisement
"He's fiercely protective of her," a colleague tells OK! of the 37-year-old William Morris agent, who has been the singer's rock of reliability, even in her darkest period. But while another insider claims Jason is merely protecting his investment ("Britney's dad pays him a lot of money"), the colleague insists they're the real deal: "He was there when everyone else had written her off, reconstructing her comeback, reminding her that fans still loved the old Britney and wanted her to be happy."