PHOTOS
Hayden Won't Rule Out Onscreen Nudity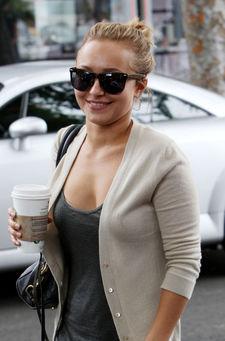 Some of Hollywood's top stars, like Halle Berry or Sandra Bullock wait until they're well into their big-screen careers before baring all for eager male audiences. But 19-year-old Hayden Panettierre reveals that she doesn't really have a problem going au naturale.
In fact, for her new movie, I Love You, Beth Cooper, the Heroes star actually did go the Full Monty for one scene where she drops her towel with her back to the camera.
Article continues below advertisement
"I was really naked," Hayden tells <a href="http://www.eonline.com/uberblog/marc_malkin/b131364_hayden_on_movie_nudity_you_never_know.html" target="_blank">E! News's Marc Malkin</a>. "I had these little sticky petals on my boobs, but that was about it. My dad calls me such an exhibitionist. He always says, 'God, even when you were little, you were such an exhibitionist!' "
If there's one thing Hayden's uptight about, it's not showing off her figure. "I'm cool with my body," she explains. "I'm cool running around undressed and all that stuff, but there are just certain things that not everyone needs to know, that you need to keep somehow private and personal to you... But you never know, you never know. I could be 30 years old and just be like, 'Screw it — I want to take it all off. I better take a picture of this baby before it all goes.' "
MORE ON:
Hayden Panettiere
We can already see the Internet countdown clocks being started up for this one...