PHOTOS
How The Stars Are Spending Christmas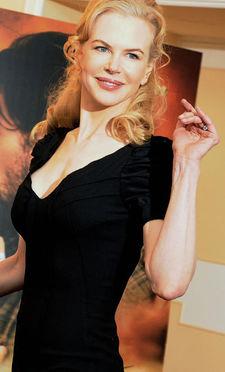 Just like families around the globe, the stars have holiday traditions and make every effort to be with their loved ones during this special time of year.
"We have Santa Claus, and Santa Claus, and gifts and more Santa Claus and open fires and a lot of food," Kate Winslet says. "Nobody gets out of their pajamas for about a week."
Nicole Kidman is celebrating Sunday Rose's first Christmas. "We're having our family come over," Nicole, who is married to Keith Urban, says. "Lying low. Taking it easy. Lots of food and carols. He plays carols."
Article continues below advertisement
Miley Cyrus hopes to be with boyfriend Justin Gaston. "I love to spend the holidays with all my friends, so that would be nice for us to all have a party," she says. How will Justin make it special? "Say some prayers and hope she has a good time," he tells me.
Lavishing six-year-old daughter Sy'rai with gifts is not on Brandy's agenda. "She's not going to be spoiled this Christmas because she already has gifts from last Christmas that she has not yet opened. We're in a recession right now. She's going to have to chill."
Maria Menounos will dress up her dogs. "I always dress them up for the holidays," she says. "They all have their Christmas costumes. I've omitted the antlers from my German Shepherd because he took pictures last year and he looked depressed, and my entire family hated me for it. They're like 'why did you emasculate him?'"
Ralph Macchio – celebrating on the East Coast -- gets two days of Christmas. "We open gifts on Christmas morning, so it's really old-school. Christmas Eve is at my in-laws, it's the big Italian fish dinner, and Christmas Day is at my parents with 7,000 grandchildren running around."
Article continues below advertisement
Yonkers Joe star Chazz Palminteri tells me, "Christmas is a holiday I like to have at home. I always have it in my house. I enjoy that. I like having all the family over, and have pasta. My mother-in-law cooks the turkey. I think it's great. The kids all open up the presents. It's a great time of the year."
Lena Olin is trying something new. "We're going to go to Switzerland – the whole family. We'll go skiing and have hot chocolate. This is our first year we're doing that. We always go to Vermont, but this year we want to start a European tradition too."
Gabrielle Union and Diddy enjoy NYC this time of year. "I love going out to Rockefeller Center and watching people fall on the ice skating rink," Gabrielle says. Diddy adds, "I keep it shopping at FAO Schwarz."
Julianne Hough plans to meet up with her famous friends in Tennessee. "There's a bunch of parties in Nashville, and songwriters will throw parties at their houses and stuff. That's where I hung out with Taylor Swift and Kellie Pickler for the first time last year -- at a Christmas party. We'll probably all bump into each other at some point."
WHERE IN THE WORLD ARE THE CELEBS THIS CHRISTMAS? Cynthia Nixon is off to California "to get out of the cold weather." She'll celebrate with "the usual" traditions. … Wizards of Waverly Place star Jake T. Austin will be in New York play football with his uncle at home. … Ashanti will "probably" see boyfriend Nelly for the holidays. "I'll be on the beach somewhere," she tells me. The guys of Lady Antebellum are returning to Georgia while their lead singer Hillary Scott is staying in Tennessee. … Ne-Yo is whooping it up with his sister, mom and grandma in Atlanta. "Last year I ended up having to do a show, and mom's never going to let me forget that. Mom's like 'oh no, no, no,'" he says. "This year was extra important that I got home. It's going to be our first time spending it in Atlanta, which is our new home."