PHOTOS
Idol Insider: The Final Four Perform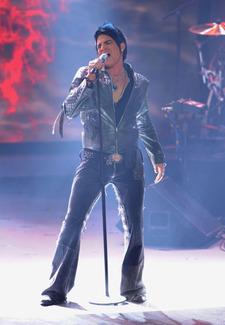 As American Idol rolls on toward the season finale, OK! asked one of the few people on the planet who know what it's like to ride the AI rollercoaster for an entire season — Diana DeGarmo — to share her unique perspective on Idol every week.
May 5 — Rock Night!
Last night was my first time actually going to an American Idol show in almost two years. I felt like I had walked into the Twilight Zone!
When I arrived I saw all of the different audience members going in for both American Idol and Dancing With The Stars with their signs and happy faces and then there were the paramedics.... duhn-duhn-duuuuuuhnnn.......
Article continues below advertisement
Once we were inside, we found out that American Idol's dearly beloved stage manager, Debbie, had a nasty accident on the stage and had to be rushed to the hospital. Then, not even five minutes later, someone came out to tell us that part of the stage had fallen down during the dress rehearsal. A live show is stressful enough, but two big accidents right before a show definitely puts everyone on edge!
Once the stage was cleaned up and the audience was moved in, we all got a special treat and got to see the rest of the dress rehearsal. The dress rehearsal is usually taped and then shown as the "re-cap package" at the end of the show; so the production team was frantic to get each of the contestants up there as quickly as possible before they went live to the East Coast.
That also gave the audience a little snippet of what was to come with the show and let me say, I got excited! The energy of stepping into that building alone was plenty for me, but to add to it, there was drama and the man, the legend, the rock god, Slash, sitting in front of me!
Article continues below advertisement
I have to admit, I was pretty darn starstruck.
The rock-themed show kicked off with a huge bang with Adam Lambert singing the genre of his dreams. Adam's confidence was very obvious from the moment he stepped out on that stage. He knew he was in his element and that he was going to give us something great. Adam picked a cool, but bold, song — Led Zepplin's "Whole Lot of Love" — and hit it out of the park. The judges gave him plenty of praise and the audience totally agreed.
Allison Iraheta came up next singing "Cry Baby" by Janis Joplin. I thought she gave an awesome performance and picked a perfect song for her voice. The judges didn't exactly see it that way. Simon ragged on her a little too much for my taste, but Allison stood up for herself and made me proud, once again. I know just how she feels, so I give her big kudos for speaking her mind!
For the first time in Idol history, the contestants had to sing duets and, honestly, I don't think it was Idol's brightest idea.
Article continues below advertisement
Danny Gokey and Kris Allen sang Styx's "Renegade" — a kick-butt song — and sounded fabulous together, but how in the world were the judges supposed to judge THAT?? Songs for the show can barely be a minute and a half and then when you have to divide that again with another contestant — huh, what, why??
The arrangement done for Kris and Danny didn't give enough "personal shine time" for either of them. That was just plain unfair. The judges gave the guys a hard time, but I was jamming out with them the whole song!
Moving on.....
Finally, we got to see Kris take the stage alone with "Come Together." Kris had big shoes to fill with singing a Beatles tune and I enjoyed his performance a lot, but the judges weren't feeling it. I thought Kris looked really comfortable up there with his guitar and sang the song really well. He even got to play Slash's guitar in his mentoring session! How incredible is that?!? The judges gave Kris a hard time about his song choice, but the audience and I loved it. Thankfully, the judges don't vote!
Article continues below advertisement
Last up for the solo performances was Danny, who took the biggest risk of the night with Aerosmith's "Dream On." And, in my opinion, he sang the song like a rock star! Even though Danny is known more for his smooth R&B vocals, he really stepped out of his comfort zone and put on a great performance. Once again, the judges drank a huge gallon of "hater-ade" and proceeded to put poor Danny through the wringer. I strongly believe that after Adam the judges just went into auto-pilot. They kept picking on the obvious — that rock is not really Danny's forté — and never really gave him any worthy critiques.
Wrapping up the evening, Adam and Allison sang their duet — Foghat's "Slow Ride." Even though I still don't believe that duets are a good idea for the show, Adam and Allison each really sparkled. The judges put their "party pants" back on and gave each of them nice comments. Simon was even bold enough to tell Allison that Adam probably helped her get into the finals with their performance. Oh Simon, what am I gonna do with you??
In the end, Rock Night was pure fun and each of the contestants gave fantastic performances. It was a trip sitting out in the audience. I am still amazed by how much the show has grown since I was on it "back in the day." I had a wonderful American Idol reunion with all of the production family and even Simon waved to me from his chair! Awwwwwww! ;)
Until tomorrow,
—Diana
Diana can currently be seen performing in Back to Bacharach & David, directed by Kathy Najimy, at the Music Box @ Fonda in L.A. through May 17. And you can always keep up with Diana on her MySpace page!