PHOTOS
Idol Insider: The Final Showdown is Set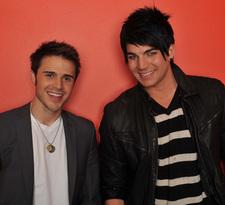 As American Idol rolls on toward next week's season finale, OK! asked one of the few people on the planet who know what it's like to ride the AI rollercoaster for an entire season — Diana DeGarmo — to share her unique perspective the hit show.
MAY 13 — DANNY ELIMINATED
American Idol has pulled off yet another shocker for their eighth season! Last night's result show was a high impact ,full energy evening that ended with another inevitable sad goodbye.
Article continues below advertisement
It seems that this specific episode was even more packed full of promotions than usual. We got to see Ben Stiller for his new movie Night at the Museum: Battle for the Smithsonian, Alicia Keys with her charity work in Africa, Jordin Sparks with her new single, "Battlefield," and Katy Perry with her new single "Waking Up In Vegas." PHEW! I love each and every one of those stars, but dang!
Can't we just make the show the length of one of the five-million commercial breaks and just tell us who got voted off, please?!? Oh wait, they can't....
It does kind of seem like if you really want to sell/promote/show off something, then go on American Idol.
I enjoyed seeing the home town packages for Danny, Kris, and Adam. It made me reminiscent of when I made that crazy 2-day scurry back home. When you're on the show you are kept in such a bubble. You're always working hard and just trying to "get to the next week," but I know I got terribly home sick. When they find out who makes it into the top 3 you are rushed to the airport IMMEDIATELY after the show and taken through a 48-hour circus! I guess that trip kind of prepares you for what might happen after Idol.
Article continues below advertisement
I remember when I landed back in Atlanta, even though it was kind of muggy and rainy, just like it should be in May in the South, I was soooooo excited just to see trees! I love me some L.A., but y'all can't beat those Georgia pine! :) I think it's great that the show goes back home with each of the contestants in the final three. Not only does that trip give the contestant an extra confidence boost but it also shows them just how much life has changed within three quick months! Ahhhhh... the bittersweet memories.
In the end, we all had to say farewell to Mr. Danny Gokey. It was a big surprise to a lot of folks; I truly thought his huge fan base was gonna push him through to the finals. I loved watching Danny's video from his ride on American Idol. Danny has always been full of class and a sweet spirit. He left the audience wanting more, just like it should be!
Until next week's finale!
—Diana
Diana can currently be seen performing in Back to Bacharach & David, directed by Kathy Najimy, at the Music Box @ Fonda in L.A. through May 17. And you can always keep up with Diana on her !