PHOTOS
Famous Instagram Pet Toast The Dog Has Died: 'She Had An Exceptional Life'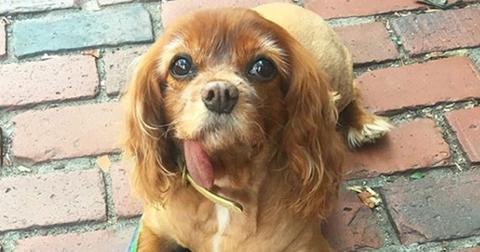 Dec. 15 2017, Published 7:09 p.m. ET
View all comments
Toast, the beloved Cavalier King Charles Spaniel who was rescued from a puppy mill and gained fame on Instagram, has died. Thanks to her lovable lopsided tongue and impeccable sense of fashion, Toast became an Instagram celeb with hundreds of thousands of followers, who even had her "wedding" televised on The Real Housewives of New York City! The Insta-famous pet belonged to another Instagram-famous celeb, The Fat Jew aka Josh Ostrovsky, who shared the pooch with his ex-wife Katie Sturino. Click through to see Toast's owners' tribute to their beloved pooch.
Article continues below advertisement
"Heaven has a new star tonight," Katie, who didn't mention Toast's cause of death, wrote beside a pic of the pooch sunning herself by the pool. "We're heartbroken to share the news that Toast has passed."
Despite the sad news, Katie admitted that the beloved pooch "had an exceptional life." "She wrote a book, had a televised wedding, appears on billboards across the country promoting rescue and modeled for an international eyewear campaign," the caption read.
Article continues below advertisement
Katie joked that while Toast "was a best friend, a world champion little spoon," she was "far from being an angel." "Toast was often a little devil," she wrote, noting that the pooch often dragged rolls of toilet paper into the living room, peed "whenever/wherever she wanted to," and snored "like a 400lb trucker."
In honor of Toast and "the tongue that will never be forgotten," Katie asked that fans post a photo using the hashtag #ToastMeetsHeaven to show their love for her.
Article continues below advertisement
She also requested that fans consider donating to charities that help save dogs from puppy mills, like the one Toast was rescued from.
"She knew she was loved and adored by people around the globe and we are so grateful to have known her," Katie finished. "Our hearts will eventually heal knowing that she will live on forever in people's hearts."