STYLE
IN THIS ISSUE: Glee's Jenna Ushkowitz Gets Cozy For Winter!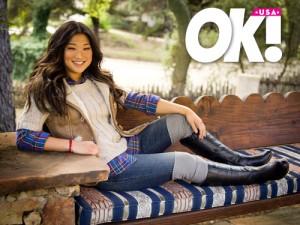 When Jenna Ushkowitz swapped coasts (East for West) to play Glee's Tina, the New Yorker says she didn't have much trouble adjusting to the L.A. lifestyle. "I switched over to Coffee Bean and In-N-Out Burger," where she loves the fries, animal style. Jenna even shifted her fashion. This week in OK!, we snagged an exclusive photo shoot with the Glee star and chatted about her new style.
OK! COVER STORY: KHLOÉ KARDASHIAN & KATE HUDSON — PREGNANT & BETRAYED
Article continues below advertisement
"In New York, I was the little-black-dress girl. When I came to California, I learned I had to put some color in my wardrobe." But wherever she goes, there's one thing Jenna doesn't change about her personal style: "I like whatever I feel good in, definitely on the comfy side. I love big sweaters, leggings, boots." So she was thrilled to show off the season's coziest looks for OK!.
How did you feel when you got your first role on Broadway?
Five hundred kids auditioned for the role in The King and I. I was in the fourth grade and when I got it I ran around school telling all my teachers.
What was your next show?
The second time I was in Spring Awakening — that was scary.
Spring Awakening is like The Mickey Mouse Club!
I feel like it! Apparently! Lea Michele, Jon Groff, Skylar Astin.
OK! NEWS: GLEE CAP — NEW DIRECTIONS GETS A "SPECIAL EDUCATION"
Article continues below advertisement
When you got your first paycheck from Glee, what did you splurge on?
Because I was bartending before that I wanted to be frugal. But I bought my Louis Vuitton bag — all the girls bought Louis bags.
Which one?
The Speedy bag that I still use. I call her Layla. Naya Rivera named hers Lola, so I was like, "This is Layla."
Do you ever suggest songs for Tina?
The writers are so good with that, so we try not to. But if we really want a song, we sing it around them. The writers will listen to what we like and what's new.