PHOTOS
Jade Goody Laid to Rest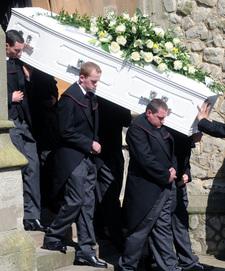 The grieving family and friends of Jade Goody paid tribute to the tragic TV star today, at a touching funeral service in her hometown.
The service — attended by 300 mourners — was screened to the thousands of well-wishers waiting outside St John's Baptist Church, in Buckhurst Hill.
Her widower Jack Tweed, 21, helped carry the white coffin into the church with other pallbearers, including his dad Andrew and Jade's close friend Kevin Adams.
Article continues below advertisement
Onlookers wept as a DVD of Jade's best moments was screened to Abba tune "Slipping Through My Fingers."
Jade's publicist Max Clifford recalled meeting her for the first time in his reading, telling the congregation he remembered a girl "who was very ordinary and very extraordinary at the same time."
He said: "When we left the house it was cloudy and overcast.
"As we moved forwards the sun started to come through and that is what in many ways Jade's life was like. It was difficult to start with but as she got older she took more and more control... and people came to appreciate that."
Jade's friend and personal trainer, Kevin Adams, read a personal tribute to her, telling mourners: "Nothing, absolutely nothing, in Jade's life was done by half.
"Love her or hate her, that was the beauty of the girl."
Jade died at home at the age of 27 on March 22 after losing a battle with cervical cancer.
The mother-of-two young boys - Bobby and Freddy - touched the hearts of those who watched her televised battle with cancer and read about her marriage to Jack Tweed in OK! Magazine.
Article continues below advertisement
The ceremony - tinged by great sadness - was held in February after Jade was told she had only weeks to live.
Today waiting fans tossed flowers onto the Big Brother star's hearse and applauded in the rain as her plain white coffin was driven through the streets of London.
Police stopped traffic as the cortege made its way in wet, gloomy conditions to the funeral service - which was held at noon today.
Funeral director Mr Albin-Dyer, who walked alongside the vintage Rolls-Royce, said: "Bermondsey is very kind to its dead. What's happening with Jade here isn't uncommon to Bermondsey people.
"They all come out to wish people well as they go."
Rev Stewart Hartley paid tribute to the star today, saying: "She was a local girl who made the best of life and of course at the end has been an inspiration to people."
Article continues below advertisement
He spoke of her special legacy, that has seen hundreds of young women having smear tests which can detect early signs of cervical cancer.
He said: "Several girls have said to me 'I've gone and had some tests done' because Jade said they should."
OK! NEWS: GET THE LATEST CELEB NEWS AS IT BREAKS
The procession stopped outside a market on Southwark Park Road, known as The Blue, where her family used to have a stall, where a single white dove was released to the cheers of onlookers.
Mr Albin-Dyer told the crowd: "I knew you'd be like this. I knew you'd come and say goodbye like this.
"So from everyone in Bermondsey, goodbye."
The cortege then passed through the council estate where she grew up.
Hours before the start of the funeral Jade's fans were lining the street outside St John the Baptist Church in Buckhurst Hill, Essex, where a big screen relayed the service to the public.
Among the waiting crowd was mum-of-seven Kirsty Brooks, 34, of Westbury, Wiltshire, who travelled for seven-and-a-half hours to witness the funeral.
Article continues below advertisement
She said: "We have always been big fans of Jade since Big Brother and have just always followed her.
"She was just a real woman who always put her kids first to the end. She also shared the same birthday as my late daughter, who passed away."
Her sister, mum-of-two, Stephanie Bryant, 24, of Trowbridge, Wiltshire, added: "Jade was so unselfish, she was always smiling no matter what happened to her.
"She coped admirably with her illness, better than many of us would have done.
"Most of us would have crumbled. Right up until the end all she thought of was her two boys, not herself.
"If she has saved one life now, she has achieved her goal."
OK! VIDEO: WATCH BREAKING SHOWBIZ NEWS...
Also outside the church was Bishop Jonathan Blake, who stood talking to members of the crowd and journalists.
He said: "Jade was always raw and real. There was nothing superficial about Jade.
"When she had this diagnosis many celebrities would have hidden away at that point but she didn't, she stood out until the end."
Article continues below advertisement
He added: "She lived in the glare of the public spotlight; she felt a great debt to the public.
"That relationship with the public was something she had."
Publicist Max Clifford today said the public reaction would have pleased Jade.
He said: "It is very much the way she wanted it," he said.
"In life she loved being loved and it is pretty clear that this is the overwhelming feeling today.
"She will have a big smile on her face when she sees what is going on today."
Mr Clifford said Jade's mother Jackiey Budden, 51, was "distraught" and Mr Tweed was "heartbroken".
He said: "Jackiey is absolutely distraught. Jack is very much within himself. He is that kind of lad.
"He keeps everything inside. He doesn't show his feelings but the fact is he is absolutely heartbroken.
Jade's sons are reportedly in Australia with their father Jeff Brazier.