PHOTOS
Jamie Foxx Removes Foot from Mouth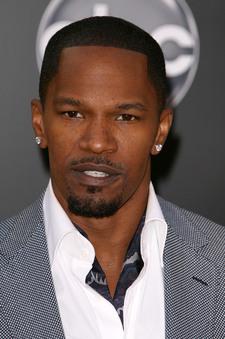 Funny thing about being a celebrity: You can't always shoot your mouth off about other celebrities, especially if the celebrity in question happens to be a beloved teenage girl.
This is the lesson that Jamie Foxx learned dearly over the last few days, as he felt the backlash for comments he made on his weekend satellite radio show that Miley Cyrus should "make a sex tape and grow up," or "Get like Britney Spears and do some heroin."
Article continues below advertisement
And so it was that the Oscar-winning actor appeared on Tuesday night's Tonight Show with Jay Leno to admit that maybe... just maybe... he might have been a bit too harsh on the 16-year-old Hannah Montana star.
"I am a comedian, and you guys know that whatever I say, I don't mean any of it," he tried to explain to Jay. "And sometimes, as comedians, as we do, we go a little bit too far... There was a situation with Miley Cyrus, and I just want to say, I apologize for what I said. I didn't mean it maliciously."
As if that weren't enough, the actor looked directly into the camera to beg for mercy from the teen superstar. "Miley, I apologize, so I'll call you," he said. "I got a daughter too, so I completely understand."
Of course, the real test will come next weekend, when Jamie's new film The Soloist, co-starring Robert Downey, Jr., hits theaters and goes up against the current box-office champ, Miley's Hannah Montana flick.
Speaking of which, here are some shots from the hit movie:
Have a news tip or great photo you want to tell us about? Shoot us an e-mail: tips@okmagazine.com