PHOTOS
Jenelle Evans' Husband David Eason Loses Custody Of His Son!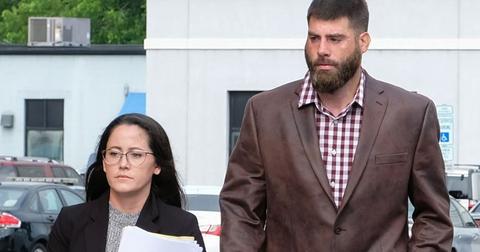 Aug. 30 2019, Published 3:31 p.m. ET
View all comments
Jenelle Evans and David Eason are still dealing with custody drama. The fired Teen Mom 2 dad has lost custody of his son months after CPS removed all their other children in their home.
Article continues below advertisement
Article continues below advertisement
A North Carolina judge granted David's ex-girlfriend, Olivia Leedham, sole legal and physical custody of Kaden back on June 29, 2019.
As fans may know, back in September 2014, Olivia was first awarded sole legal and physical custody of the 5-year-old and David was denied any contact with the child.
Article continues below advertisement
A few years later in January 2017, the exes reached an agreement in mediation that allowed David, 31, to have contact with Kaden. In January 2018, he received every-other-weekend with his son.
According to the documents obtained, in July 2018 Kaden allegedly "began displaying a series of alarming behaviors related to visitation with the Defendant, notably, that he would cry uncontrollably, that he would beg not to visit Defendant, and that he was evasive about why he did not want to visit Defendant at Defendant's residence." In November 2018, David's visitation with his son was suspended.
Article continues below advertisement
As many TM2 fans may remember, Jenelle accused David of assaulting her while their children were sleeping in their home in October 2018. Olivia claimed that Kaden was one of the children.
David was allowed to Skype with Kaden starting in November 2018, but the former reality star "did not take full advantage of even the limited amount of time he has been allowed."
Article continues below advertisement
After the findings, the court granted Olivia sole custody of Kaden.
Back in May 2019, Jenelle and David's children, Kaiser, Maryssa, and Ensley, were removed from their home by CPS after he shot and killed their family dog. In July 2019, they regained custody.
Stay with OKMagazine.com for more on Jenelle and David!