PHOTOS
Jenna Jameson Reveals 20 Pound Weight Gain After Ditching Keto Diet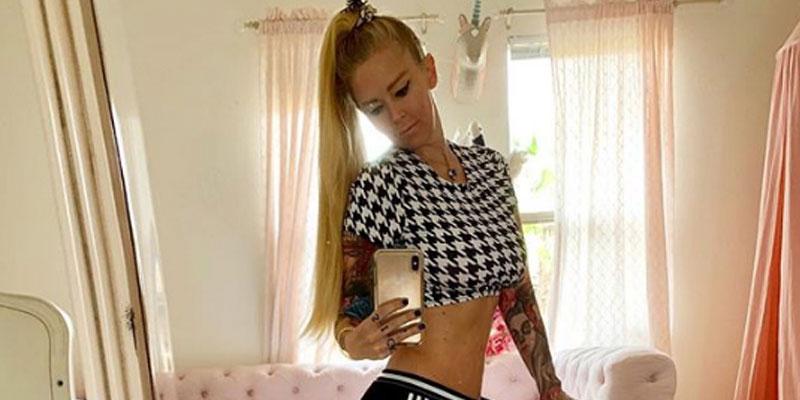 Jenna Jameson is living her best carb-filled life. The former adult film star revealed on December 5 that after nearly two years of following the ketogenic diet, she took a break and gained 20 pounds. Jenna, 45, considered herself a "keto queen," and lost over 80 pounds in six months when she embarked on the low-carb journey.
Article continues below advertisement
On December 5, Jenna took to Instagram and shared a picture of herself perched in a chair wearing a blue long-sleeve shirt. "Confession. I've gained 20 pounds. Ugh. I decided to take a break from #keto and live my best carby life," She captioned her post. "The weight came back fast and furious. I know a lot of people are quitting keto because it's hard to maintain and after a year and a half I concur. Not sure if I'm going to go back full force or just calorie count."
She concluded her caption asking her 497K followers for feedback. "What are your thoughts? Love you guys!"
Article continues below advertisement
Jenna originally adopted the ketogenic diet to drop her baby weight after she gave birth to daughter Batel Lu. She lost over 80 pounds since she started. Even though Jenna was successful with the low-carb, high fat diet, she was honest with her followers throughout her journey. The TV personality acknowledged that it's hard to start and maintain the diet, especially if you slip up.
She temporarily abandoned the diet in May 2019 when she moved to Hawaii.  "Let's talk jumping back on the wagon after losing control and eating like a crazed banshee. We all do it. There are no exceptions. All the health gurus and fitness bada**es do it. But how do we get the wherewithal to begin again? For me, it comes in the form of wanting to feel my best. I know I'm not perfect and my willpower isn't ironclad, but I DO know I will never give up!" she wrote on a before-and-after photo on social media at the time.
Article continues below advertisement
Jenna continued, "It's important to know that no matter how long you fall off, you can always jump back on the horse! It's ok to feel discouraged, disappointed and downright pissed. Channel that into positivity and know there are so many on this journey right along with you! Love you guys!"
However, she got back on track and shared some tips with her followers who needed advice on how to start. Jenna recommended cleaning out your fridge of carbs and sugar in order to resist temptation, along with suggested intermittent fasting.
Article continues below advertisement
"I wake up with a flat tummy and little to no bloat. I haven't lost weight just redistributed it, it seems!" she confessed, adding that she only consumes tea, water and black coffee between 6 p.m. and 11 a.m.
What do you think of Jenna ditching the keto diet? Sound off in the comments below!