PHOTOS
Jerry O'Connell's Big Pursuit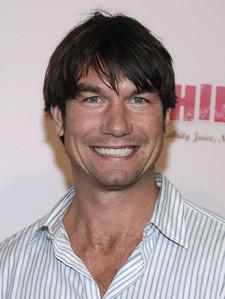 Jerry O'Connell, mountain man?
O'Connell, who rose to fame as a child star in Stand by Me — and most recently appeared in the comedy series Carpoolers — took advantage of the time he's had off thanks to the writer's strike. He spent the past few months shaping up to take part in an adventurous competition in the Scottish Highlands.
O'Connell will be a part of the first American team to participate in the Drambuie Pursuit, a one-day multisport competition in the Scottish Highlands that includes mountain-climbing, white-water rafting and mountain-biking.
Article continues below advertisement
O'Connell just finished filming the comedy Baby on Board with Heather Graham and has been calling on friends to help train for the event. "Angie Harmon's husband Jason Sehorn is an extremely accomplished mountain biker. He kicks my butt."
O'Connell's wife, Rebecca Romijn, was also a big help during training. "We've been biking a lot. And she's a terrific hiker," said O'Connell. The pair often trek out to the Santa Monica mountains to hike. "My wife is really an outdoorsy type. I'm a little more chicken," said O'Connell who admitted that the Pursuit will also be his first experience camping.
The Pursuit challenge is based on the route that Scotland's Bonnie Prince Charlie took to escape to France in 1746. "He used this wacky trail to flee to France and the race is loosely based on his route."
"Drambuie reached out to me — I think that they wanted someone who could handle it, but is by no means a professional. I sort of embody the average Joe."
And whether his team wins or loses, "It was fun to have an excuse to keep going to the gym."