PHOTOS
Jesse McCartney Looks Ahead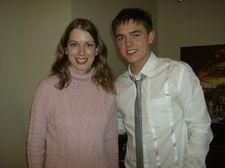 Jesse McCartney doesn't look back when it comes to his boy band past in the group Dream Street. The guys have no set plans to reunite.
"I don't know that that's going to happen," he tells me. "Everyone's doing their own thing at this point. A bunch of us have our own promising careers. I think for everyone that was a big learning experience. It was one of those moments where we learned a lot in this industry in those few years."
Article continues below advertisement
But Jesse, 21, is pleased to return to his childhood by lending his voice to Alvin and the Chipmunks: The Squeakuel, due out later this year.
"I grew up watching it every Saturday morning," he says. "I never thought I'd be playing the young little fat chipmunk. Getting back to my roots."
Even though he's established as a singer and actor, that doesn't make him immune to being mistaken for other celebrities.
"A couple girls came up to me a few weeks ago, and they walked up and I'm waiting for it, like 'yeah?' And they're like 'Frankie Muniz!' and I'm like 'no! Wrong guy. Later.'"
He has a backup plan just in case.
"I always wanted to be a baseball player," Jesse tells me. "I always wanted to be an athlete. I'm a big sports fan. I played baseball all through high school – I was the pitcher for my team – and I probably would've gone on to play for college if I didn't stay in the music industry."
What's this single guy's advice for getting through a breakup? Write a song.
"Even if you don't consider yourself a songwriter, you don't have to be. You can just write. For me, that was my biggest outlet."