PHOTOS
Jillian Michaels Weighs In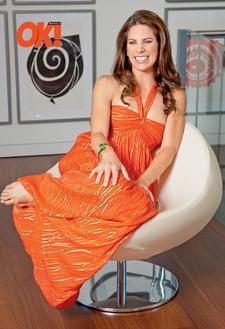 It's a little odd seeing power trainer in anything other than workout wear. That, after all, is her trademark on The Biggest Loser, where she coaches and motivates contestants on a weekly basis.
A bestselling fitness and nutrition author, Jillian practices what she preaches. At age 12, she tipped the scales at 175, shedding pounds only after taking up martial arts a year later. Today, the 5-foot-2-inch star is 117 pounds of rock-hard muscle, thanks to a routine that includes the Brazilian martial art capoeira, kettle bells, running, yoga and biometric pull-ups. As she puts it, "I work my ass off!"
Article continues below advertisement
So how does she do it? Herewith, her tips for looking so fabulous day in and day out – and how to look hot before a big night out on the town.
Jillian's Tricks of the trade when she has no time to work out: There's no drinking whatsoever. A glass of wine at night, tequila shots, they go. I don't get to have my organic peanut butter cups or eat as much, period.
If you're going to trick, drink this: A margarita is 500 calories, so instead you can do the diet version that has 80 calories, with Patrón on the rocks, fresh lime and if you need it, a tiny splash of orange juice.
Tips for losing a dress size for a big date or event:
1. Take three to five days to prepare.
2. Drink a gallon of water a day with two tea bags of dandelion tea, all-natural cranberry juice and the juice of one lemon.
3. Eat asparagus and a little watermelon. The potassium helps flush water out.
4. No salt. Sodium-rich foods include cold cuts, most meat, anything processed.
5. Avoid tanning because the sun will dehydrate you. If you want color, go for a spray tan.
6. Work out.
7. Spend three 20-minute sessions in a sauna and sweat it out of your cells.
8. Avoid carbs.
9. Go to a spa and get a body wrap.
But beware: During the event, don't eat and drink with abandon. "Your body will begin to re-bloat with the first morsel of food," says Jillian.