PHOTOS
Jimmy Fallon Wants To Be A Mailman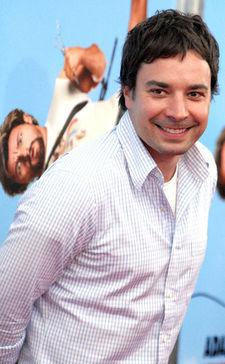 Sure, Jimmy Fallon may have his own talk show – Late Night With Jimmy Fallon – and a slew of acting credits including eight years on Saturday Night Live under his belt. But just in case it all ends tomorrow, the comedian, 34, has a backup plan.
"I would be a mailman," he says. "I like that job. I'd like to be a mailman. You get to wear shorts all the time, and they drive in special vehicles. The steering wheel's on the other side. They break all the rules. They've got no rules."
Article continues below advertisement
When the late-night host married to Nancy Juvonen, 41, isn't working on his "12-13 hour day job," he's busy setting up his passion project: a Saved By The Bell reunion show.
"We're working as hard as we possibly can. Right now all we've got is Mr. Belding, but we think we've got a good lead on Mario Lopez."
Jimmy says Mark-Paul Gosselaar, Tiffani-Amber Thiessen or Lark Voorhies may be the hardest to convince.
What inspired the retro fascination?
"Just fans," he says. "People in the writers room were like 'hey, we should do that. I mean, why not? We have a show.'"
For now, the Brooklyn native says three guests -- Adam Sandler, Steve Martin and the Queen of England – would make his dreams come true if they would put in an appearance on his late-night show.
"Any of those three would be great," he says. "There are politics in booking, and thank God we have bookers because I couldn't even get remotely involved in booking. But I don't care. Come on my show sixth. I don't care if you do every other show before mine."
Article continues below advertisement
Best thing about hosting Late Night so far?
"It goes by so fast that by the time it's over – I watch it on Sunday, and I'm like 'I can't believe I played beer pong with Serena Williams.' But it moves so fast, and it's so fun to tell jokes and be creative in front of a bunch of people. We have great writers that write fun things for me. I'm lucky to work with them."
What's the biggest challenge he faces?
"Doing anything else but that," he tells me. "I've gotta go to work early tomorrow morning. The hours. The hours before you go out there. The hour I'm out there is the most fun thing in the world. The hours before that is a little bit of work."
Catch Late Night With Jimmy Fallon at 12:35/11:35C on NBC.
SEE MORE PHOTOS IN THE VALERIE GALLERY: