PHOTOS
John Travolta, Kelly Preston Fought For Son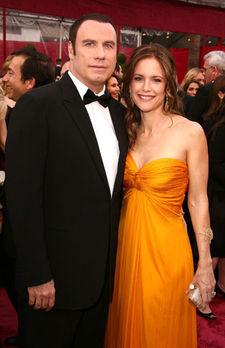 Deepest condolences go to John Travolta and wife Kelly Preston, who lost their 16-year-old son Jett on Friday.
John and Kelly are among the most kind, genuine superstars I've met, which makes this heartbreaking tragedy that much sadder.
I first sat down with Kelly in 2001, when she was lobbying Congress on behalf of CHEC to enact a national Right To Know bill, which she described as "the right to know what chemicals are harming us and how."
Article continues below advertisement
Accompanied by Olivia Newton-John, the two stormed the Capitol in Washington, D.C., to get things accomplished. They made a video called Not Under My Roof, which they hoped to get into maternity wards by 2002. (It worked!)
According to Kelly, Jett, then 8, nearly died at age 2 when he breathed in fumes shortly after their carpets were cleaned.
"We're using things on counters, carpets and outside on the lawn that are very damaging to young nervous systems," Kelly tells me. "The rates for cancer, autism and learning disabilities are way up. I want to know why and I would like to stop that."
She was especially concerned about PVC, which is a chemical that was discovered in children's necklaces sold at Kmart at the time.
"It is found in teethers, and America hasn't stopped using them, which is appalling, because when the children mouth these toys, the chemicals are released into their little bodies," Kelly tells me.
I've seen Kelly several more times over the years with her husband at 2003's Stella Adler School of Acting Awards, his 2007 Hairspray premiere and her 2007 Death Sentence premiere.
Article continues below advertisement
It was very exciting to meet John Travolta for the first time. It was even more refreshing how his soft-spoken nature has a way of putting everyone at ease. (One time he even called me "honey" – wow!) He seems like he would be a great father, and he didn't think his Hollywood fame made him any different from others rising to the challenge of parenthood.
"It's tough to be a parent anywhere," John said at his wife's Death Sentence premiere. "I think there's some advantages that Hollywood people have for encouraging privacy and homeschooling. We get to control our environment a little better -- even though it looks like being famous you're less controlled. We actually in some ways get to control it better."
Kelly certainly cherishes motherhood. What's her favorite part?
"Just the closeness and the fun and the joy they give you on an every-moment basis," she tells me at her premiere. "It's just so wondrous. There's so many clichés, but it's really seeing things through their eyes, or the hilarious ways they'll perceive something. Their take on it is so completely astute. Kids say the wildest things. Well, they really do, and they nail it all the time."
Article continues below advertisement
In getting through difficult times, the couple relies on their 17-year history as husband and wife.
At his Hairspray premiere, John tells me the secret to a happy marriage lies in communication. He says, "Communication leads to understanding, and understanding is a universal solvent."
They also rely on spirituality to keep their union strong.
"We're both Scientologists and we have similar beliefs in how to raise our kids," Kelly says at her premiere. "It keeps us growing spiritually and constantly and happy and grounded."
John says, "We use the techniques all the time at work, home, with the kids. It's all tools for better survival."
Kelly adds, "Better living. We know how to survive in life a whole lot better. It helps you on a daily basis. Apply religious philosophy everywhere that it's applicable."
John continues, "It is tools you need every day to better your life."
Our thoughts are with John, Kelly and their daughter Ella Bleu, 8, during this devastating time.