PHOTOS
Jonathan Cheban's Top 10 Most Epic 'Food God' Moments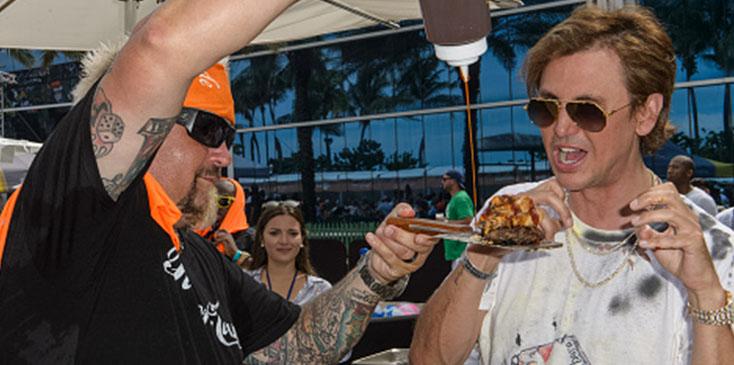 Jonathan Cheban aka "Food God" is known for eating the most expensive and outrageous dishes from all around the world. From cotton candy burritos filled with Fruity Pebbles to pancakes the size of small trampolines, Jonathan's eaten some pretty outrageous cuisine. Here are the top 10 most epic Food God meals.
Article continues below advertisement
Jonathan once ate a gigantic burger stacked with onion rings and chicken fingers at Love Archie's in Manchester, England. "What is going on here?" he said before biting into the foot-tall tower of meat.
For some more sophisticated cuisine, the Food God tried beef-filled charcoal hedgehogs at Park Chinois in London.
Article continues below advertisement
For afternoon tea "Food God style," Jonathan added some dry ice to his tea party in London, and some syringes full of jam and butter. "I don't want that boring tea with those little sandwiches," he says in the clip.
One time he ate pancakes the size of literal door mats. We can only imagine how much syrup was involved.
Article continues below advertisement
Jonathan chowed down on a $2400 caviar pizza!
And who could forget when the Food God ate 24K gold buffalo wings? It's basically an appetizer that you could propose with.
Article continues below advertisement
Fulfilling all of his childhood dreams, Jonathan ate a cotton candy burrito at Creamberry in Las Vegas, filled with M&Ms, gummy bears, and Fruity Pebbles.
Marshmallow-and-cereal wrapped ice cream cones was another strange delicacy Jonathan tried at Bumsan Organic Milk Bar in L.A.
Article continues below advertisement
To make a good meal even better, Jonathan added fondue to his burgers and fries at Clinton Hall in New York City.
He had what is probably the fanciest baked potato that ever existed, covered in gold, caviar and truffle, at Komodo Miami.
What are your favorite Food God moments? Let us know in the comments!