PHOTOS
Jordin Sparks: I Love My Curves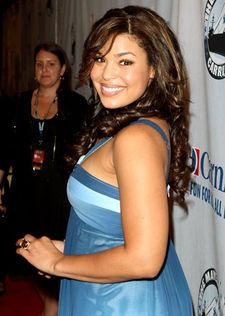 American Idol winner Jordin Sparks doesn't stress about her figure.
"I hike when I'm at home," the singer, 19, says. "I ride bikes, and I eat healthy."
How does she deal with the pressure to be thin?
"I'm all up for working out and being healthy and eating right, but I don't have to be a size four and I'll never be a size four," the Arizona native says. "If I ever get to that, you have permission to say 'Jordin, what the heck is wrong with you?' because I would blow over."
Article continues below advertisement
She adds, "I just think we're always going to be concerned about it, and we're always going to be obsessed with it, but it's really sad – especially when I see a four-year-old who doesn't want to wear a jacket because she thinks she looks fat. She's four! That should not be happening."
Jordin wouldn't change a thing about her body.
"I love the way I look. I love my curves, I love being able to fill out a dress and be like 'Yeah, I look really good today.' But I do have my days where I feel like 'I really wish I could stay inside right now.'"
Has the No Air singer ever tried a crazy diet?
"My mom raised me pretty good, and was always like 'eat in moderation' and everything is really good. My dad, I mean, he played football, so we've always been a really active family, but I've never done a crazy crash diet thing. Those are always really scary, bad for you, bad for your health."
Watch OK!'s exclusive video from the opening of the American Idol Experience held at Disney's Hollywood Studios in Lake Buena Vista, Fla.