PHOTOS
Josh Hartnett Comes Clean About Health, Dating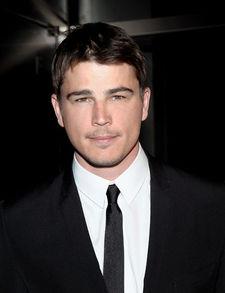 Josh Hartnett puts the rumors to rest about his health scare during the New Yorkers For Children Fool's Fete to benefit youth in foster care held Wednesday at NYC's Mandarin Oriental Hotel.
On March 30, the actor was hospitalized for several days with a gastrointestinal problem.
"I'm in great shape," Josh, 30, tells me. "They made a huge deal out of it because I left the Chateau Marmont. That's where I always stay. I got sick. I went to the hospital. I'm fine. I just had a stomach virus. It was literally a 24-hour thing. I was so dehydrated that I needed to be on a couple IVs, but I'm good now."
Article continues below advertisement
How did he get it?
"It's been reoccurring because I spend a lot of time in Third World countries," Josh says. "I drink the water occasionally when I shouldn't in the shower, and it sometimes catches up with you."
He continues, "I'm in perfect shape. I had a little stomach virus, and I went to the hospital, was on an IV, got out the next day. Everyone flipped out about it. Nothing to worry about. I'll be around for a while."
Although he won't I.D. who he is dating when Kirsten Dunst is name-dropped, he reveals he's looking for "honesty" when it comes to relationships, and eligible bachelorettes can win his heart by tuning into his favorite sitcom Eastbound and Down.
PITT PROPS
Joshua Jackson and Diane Kruger couldn't be friendlier or more in love. Diane costars with Brad Pitt in Inglorious Basterds, and says he and Angelina brought the kids to the set. "Does father-of-six Brad seem tired?" I ask. "No," the National Treasure star, 32, tells me. "He seemed pretty fired up." (How do they do it?!) Josh, 30, adds, "He's a good man and treats his work professionally."
Article continues below advertisement
WHO KNEW?!
Serena Williams, with shy-guy rapper Common, has a secret. "I'm obsessed with Robert Pattinson!" the tennis-playing twin, 27, says of the Twilight heartthrob. "Zac Efron's a close second," she laughs. What does she like most about Zac? "Probably his hair," she tells me with a cackle.
DIET SECRETS OF A REALITY STAR
The City's Olivia Palermo reveals her eating-and-exercise strategy on her way inside. "I just eat healthy," the socialite, 23, says. "I eat a lot of fish. I eat vegetables and sushi. I don't really diet. I just eat. I eat a lot, actually. I like to ski, so that's how I stay in shape."
SEE MORE PHOTOS IN THE VALERIE GALLERY: