PHOTOS
Julia Roberts Upstages Tom Hanks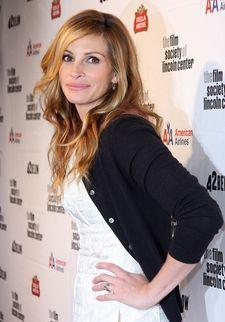 Almost every movie star who is any movie star attends The Film Society's Gala Tribute to Honor Tom Hanks held Monday at NYC's Alice Tully Hall.
A dizzying array of A-listers including Julia Roberts, Charlize Theron, Adrien Brody, Glenn Close, Sally Field and Steven Spielberg are greeted with hoots and hollers when they enter the building.
"I feel like it's my birthday," Pretty Woman Julia says when she hears the cheers. The mom of three, 41, cuts a slim figure and is the essence of effortless glamour.
Article continues below advertisement
Why did the allure of Tom Hanks steal the Oscar winner from twins Hazel and Phinnaeus, 4, and Henry, 22 months, this evening?
"He's a great, sort of quintessential actor," Julia says. "He does campy comedies from Bosom Buddies, where I fell madly in love with him, to a movie like Castaway. Someone says 'what is Tom like?' and I say 'oh, he's what you'd want him to be.'"
Charlize Theron seconds that thought. "He's just very sincere, and he lives a very truthful life," the Oscar winner, 32, tells me. "He's never kind of done anything that wasn't authentic to him, and I so appreciate that about him." The blond beauty, wearing steep heels, just returned from Salma Hayek's weekend wedding in Venice. "It was beautiful," she tells me. Favorite thing she did in Italy? "I ate lots of pasta."
Adrien Brody is also adjusting from jet lag, but doesn't let that stop him from honoring Mr. Hanks. "I just woke up from a flight," the sleepy-headed Oscar winner, 36, tells me. "Tom's obviously an incredible actor, and someone who has worked incredibly hard. I think his kindness and his spirit shines through in the performances, and it gives him a sense that I think everyone feels very familiar with him and a connection to him. I think he's an impressive man."
Article continues below advertisement
Here comes Tom Hanks, the self-deprecating man of the evening, cracking jokes and making punch lines every step of the way. "My joke is I think I've made about twenty-five movies, and I think four of them are pretty good," the two-time Oscar winner, 52, says with wife Rita Wilson, 52, at his side. "Listen, I'm a lucky man. I'll take a free dinner."
What's the best advice he's given his son? "Always wear a fresh shirt, and don't try to sweat in it too much," Colin Hanks, 31, tells me.
Ron Howard, Saturday Night Live writer/producer Lorne Michaels, Christy Turlington and hubby Ed Burns, John Leguizamo and wife Justine dash to their seats just in time for the tribute to begin.
Turns out, Julia lets loose with a tirade of F-bombs all in good fun. Who knew?!