PHOTOS
Kara "Overwhelmed" by Idol Judge Gig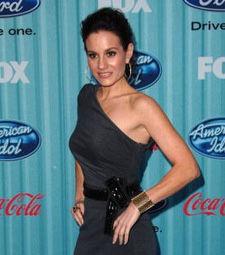 As reported in the , sources inside American Idol are saying that there's a lot of on-set tension between the show's four judges — Paula Abdul, Simon Cowell, Randy Jackson and Kara DioGuardi — and in a new interview, Kara is the first to admit that sometimes the pressures of being on one of the biggest shows in the world can get to you.
"I probably in my own way didn't really take in what a huge thing it was, just 'cause it would be so overwhelming," she tells the Associated Press. "Until I kind of showed up and was like, `Omigod, what am I doing here? This is, like, huge!' And then it really hit me when we went live that, wow, `I got to speak live in front of 30 million people?'"
Article continues below advertisement
To put it bluntly, the 38-year-old explains, "It's not an easy job."
As for sources saying that one or more of the current judges might not come back next year, Idol Executive Producer Cecile Frot-Coutaz issues this statement: "We're certainly not talking about going back to three at this point. ... We're pleased with the fourth judge."
Yes, but will Kara still be the fourth judge? Only time will tell.
PICS FROM LAST TUESDAY'S SHOW: