PHOTOS
Kathy Griffin: LiLo in Real Trouble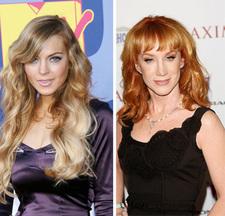 It says a lot about the state a celebrity's life is in if even no-holds-barred comedian Kathy Griffin won't make fun of someone. Right now that someone is Lindsay Lohan, who's going through a tough break-up (or break, if you ask Lilo herself) with Samantha Ronson.
"I'm more likely to make fun of Lindsay Lohan a year ago," Kathy tells PopEater. "She was clubbing every night with the girlfriend and, like, DJing – but now it seems like she's in the throes of real trouble. It feels like kicking her when she's down."
Article continues below advertisement
Kathy might even go as far as abstaining from poking fun at Lindsay until her life gets settled, as she adds, "Believe it or not, I might kind of take her out for the time being. That's a little hard to find the comedy in."
KATHY'S BIKINI BOD IN OK!:
Have a news tip or great photo you want to tell us about? Shoot us an e-mail: tips@okmagazine.com