PHOTOS
Kelly Ripa, Buzz Aldrin 'Fly Me To The Moon'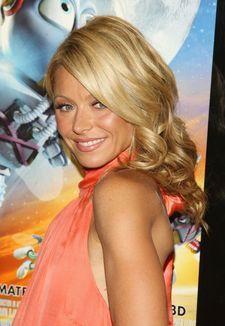 Kelly Ripa and Buzz Aldrin suit up for the premiere of Fly Me To The Moon held at The Regal Union Square in NYC.
Kelly voices a fly in the first-ever 3D cartoon, which is in theaters Friday. As she strides through with hubby Mark Conseulos in tow, she points to the cartoonish movie poster. "That's not me, but I look just like that," she laughs.
On her way up the escalator, she takes a few questions. What was it like working with Nicollette Sheridan, who also lends her voice to the flick?
Article continues below advertisement
"We're alone in like a soundstage so I didn't really get to meet anyone," Kelly says.   
Astronaut Buzz Aldrin seconds that thought.
"I wish I had worked with Kelly," he says wistfully, adding that he's a big fan of her's. "I was in there all by myself walking towards the camera and reciting her lines."
Buzz says Tom Hanks is the celeb he'd most like to take to the moon.
"He and I see eye-to-eye," Buzz says. "He goes to Sun Valley and skis up there along with the governor – Governor Schwarzenegger. No, Tom really appreciates what I do in space and I certainly appreciate what he does for space in all his acting and everything he does. He's a neat guy. He portrays the character he portrays in a way that I'm real happy about that. The other guys may not be so happy about it."
He also wants Reese Witherspoon to play his wife in a movie he's working on about his post-Apolllo trials and tribulations.
"Lois, my wife, had big designs on Reese Witherspoon because she plays such a similar part in Walk The Line." Why? "My experience with space flight was one of not being very productive for quite awhile with depression and alcoholism. I tried to recover from that, and I ran into her afterwards. I was already straightened up."
On the way into the theater, we catch Kelly and Mark being arranged for pix near the popcorn station. Ha ha ha.
Fly Me To The Moon is in theaters Friday.