PHOTOS
Kelly Rutherford Makes Terrible Twos Terrific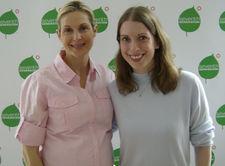 Kelly Rutherford is on hand for the Return to Origins Recycling Program launch held Thursday at NYC's General Motors Plaza.
The Gossip Girl star, 40, who is expecting a daughter in June, feels passionately about saving the environment. One thing she is doing to stay green is continuing to breastfeed her 2 ½ year-old son Hermes, whose father is her soon-to-be ex Daniel Giersch.
Why?
"I'm an eco-breastfeeding mom," she laughs. "It's not good for everyone, but it has been great for me. In the beginning nutritionally or as time goes on, it's a bond or a nurturing thing. I've heard you should allow the child to wean themselves. It's possible."
Article continues below advertisement
She doesn't intend to stop anytime soon.
"Obviously, before he goes to college, I'll probably have to quit breastfeeding. You know when it's right and you'll feel that. Some moms aren't fortunate enough. They have to go to work, and they can't always be there. I've been fortunate enough to be a mom who has been able to be around and be home."
One book that has helped Kelly cope with her son's 2-year-old phase is Jan Hunt's The Natural Child, which she got at The Golden Bridge in L.A.
"It talks about how to try to circumvent the terrible twos and the teenage years," she says. "If you take the time now to be there and present with them and listen, hopefully you won't have such a tough time because they're both natural phases of independence. They take a lot of presence. I'm doing my best to put a lot of time in now laughs and listen and be present and support him having his own mind, opinions, feelings and emotions, and doing the best I can to be present for those things – instead of ignoring them and hoping it all turns out."
Article continues below advertisement
Kelly is putting all her effort into being a devoted mom.
"I think with your first child, especially, and not any less with your second, you just try to do everything right. You read up on it, and you try to do the best you can."
Ooh! On the way out, we receive A Perfect World intensely hydrating body cream with White Tea. Nice. I can't wait to try the moisturizer. Others enjoy hand and arm massages.
Return To Origins Recycling Program accepts all empty cosmetic containers. The lipstick tubes, shampoo bottles, moisturizer jars, etc. will be submitted for recycling or energy conversion. Receptacles are in place at 450 Origins counters nationwide.
SEE MORE PHOTOS FROM THE VALERIE GALLERY: