NEWS
Kim Kardashian Dodges The Rain After A Mani-Pedi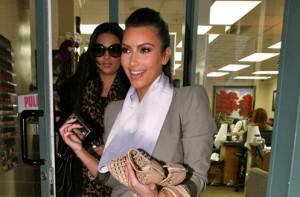 Kim Kardashian tried to escape the rain yesterday in Beverly Hills while getting her weekly mani-pedi. Mother nature was clearly not on Kim's side, Kim covered her head with a shopping bag to dodge the raindrops as she ran to her car. After glamming up, Kim and a friend headed over to Hermes to indulge in a little retail therapy.
Article continues below advertisement
Kim didn't seem to mind the rain all that much. She took to her twitter and tweeted "I love when my car is dirty and it starts to rain! Makes me not feel so bad for my car being dirty! I love the free car wash"
Kim was extremely saddened by the passing of Elizabeth Taylor and explained on her blog their connection and friendship. Check out Kim's blog posting here.