NEWS
Kirsten Dunst Leaves the City of Lights for the City of Angels!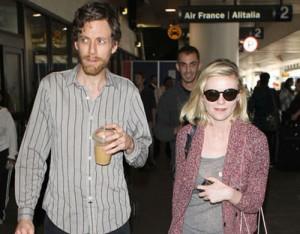 Kirsten Dunst arrived at LAX yesterday in a pair of cool shades and indie-rocker boyfriend, Jason Boese, by her side. The two have been dating for a year this month and seem to be inseparable. Jason is the drummer for Rilo Kiley so there's no denying the Kirsten is attracted to musicians. Back in 2007, Kirsten also dated Johnny Borrell who is the frontman for the band Razorlight.
OK! GALLERY: KIRSTEN DUNST DONS CHANEL IN PARIS FASHION WEEK
Article continues below advertisement
Flying in from Paris, Kirsten had a fashion packed week making stops at Paris Haute Couture Fashion Week Show. Kirsten was spotted rocking Channel and a super bright red lipstick that made the outfit a total hit. She hit up the runway shows alongside other A-listers such as Janelle Monae, Diane Kruger and Alexa Chung.
OK! GALLERY: ALL GOOD THINGS PREMIERE KIRSTEN DUNST
Kirsten also is unwinding off her movie premiere All Good Things that just hit theaters last month. Along side her co-star, Ryan Gosling, the pair made for a super powerful thriller that had been long awaited after delays due to production issues.