PHOTOS
Kris Allen to Sing National Anthem at NBA Finals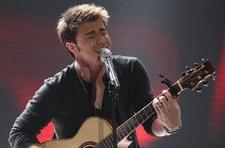 Just a few months ago, he was a struggling singer from Arkansas hoping to make it big by auditioning for American Idol. And on Sunday, Kris Allen will be performing with a completely different kind of American idols when he sings the "Star Spangled Banner" live before Game 2 of the NBA Finals.
Kris is the latest in a long line of Idol champs to sing the national anthem during the NBA finals. Since 2004, the NBA has worked with winners Kelly Clarkson, David Cook, Ruben Studdard, Carrie Underwood, Taylor Hicks, and Jordin Sparks.
Article continues below advertisement
So even if you're not a basketball fan, and just love Kris, tune into ABC at 8pm ET on Sunday June 7 to hear him sing!
Recent pics of Kris' visit to the OK! office: