PHOTOS
Lance Armstrong Welcomes Baby Boy!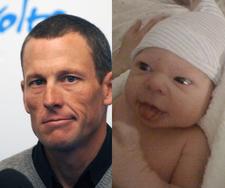 Champion cyclist Lance Armstrong is nothing if not unconvetional. Perhaps that's why he decided to announce the birth of his son on Thursday night not through a rep or through a statement to the press, but on Twitter.
Shortly before midnight ET on Thursday, Lance posted a link to a baby photo (scroll down for the pic) and the following message on his personal Twitter page:
"Wassup, world? My name is Max Armstrong and I just arrived. My Mommy is healthy and so am I!"
Article continues below advertisement
That was followed about another later with another Tweet:
"@maxarmstrong1 weighed in at 7lbs5oz and is 20 inches long."
As of early Thursday morning, the @maxarmstrong Twitter account was locked and had no followers. But then again, the baby is only a few hours old. Give him a day or two before he joins the rest of the Tweeting celebrities.
Max's mom is Lance's girlfriend Anna Hansen; he's already the proud father of three children with his ex-wife, Kristin.