PHOTOS
Lindsay in Minor Car Accident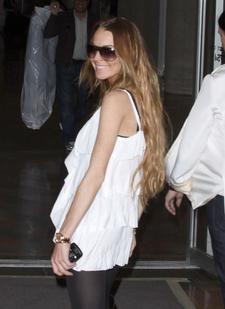 The bad news: Lindsay Lohan and her new white Maserati were in a car accident last night in Glendale, Calif. The good news: no one was hurt, and she wasn't driving.
While her assistant drove and Lilo was in the passenger seat, they hit a Subaru in front of them, damaging the front left side of her brand spankin' new Maserati. It's a good thing she wasn't driving, as she's had two other accidents – in 2005 and 2007 – and another could've gotten her in a load of hot water.
Article continues below advertisement
The Mean Girls star is busy doing her community service to atone for her 2007 arrest.
MORE PICS OF LINDSAY FROM THIS SET:
<a href="http://www.okmagazine.com/pixandvids/gallery/12741/1" target="_blank"><img src="https://d-images.okmagazine.com/img/photos/large/24083.gif" width="74" height="100"/></a> <a href="http://www.okmagazine.com/pixandvids/gallery/12741/2" target="_blank"><img src="https://d-images.okmagazine.com/img/photos/large/24082.gif" width="74" height="100"/></a> <a href="http://www.okmagazine.com/pixandvids/gallery/12741/3" target="_blank"><img src="https://d-images.okmagazine.com/img/photos/large/24081.gif" width="74" height="100"/></a> <a href="http://www.okmagazine.com/pixandvids/gallery/12741/4" target="_blank"><img src="https://d-images.okmagazine.com/img/photos/large/24080.gif" width="74" height="100"/>