PHOTOS
Lindsay's Day at the Salon with Drew Barrymore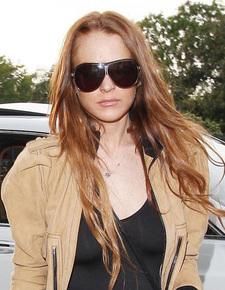 While just about everyone else is telling a different story, Lindsay Lohan has been claiming she dumped girlfriend Samantha Ronson so she could focus on herself. Thus far, however, all that LiLo's been "focusing" on is pampering herself with 3 a.m. tattoos, having sushi with her siblings and dyeing her hair from blonde to red to... who knows?
On Thursday, La Lohan made her second visit in as many days to her new fave salon, Byron & Tracey, and left with locks that were yet another mystery color.
Article continues below advertisement
Joining Linds in the private back room of the Beverly Hills salon was her little sis Ali Lohan and actress Drew Barrymore, who knows a thing or two about changing her hair color and, more importantly, about the ordeals of transitioning from adorable child star to troubled teen to Hollywood success story. We can only hope Drew imparted some sage advice to Lindsay, who still seems stuck in that nettlesome middle stage.
"Lindsay seemed really mellow and relaxed," one eyewitness inside Byron & Tracey tells OK!. "She was clearly unfazed by the swarm of paparazzi and police outside."
Adds the source, "She had her little sister on 'paparazzi patrol,' monitoring the back door every 10 minutes to see how many guys were outside. I actually think she liked the attention!"
The elite salon, also favored by A-listers Cameron Diaz and Nicole Richie, closed its doors to the public for Lindsay, Drew and Ali. Staffers covered the windows with black paper and guarded all doors while the three primped and coiffed. They also nibbled on junk food delivered from a nearby drive-thru.
Article continues below advertisement
Earlier on Thursday, the 22-year-old took one of her many weekly trips to her lawyer's office in Century City, Calif. Though it's anyone guess which of her many pending cases — her DUI? her probation violation charge? — were being discussed. Perhaps they were just discussing how difficult it is to dye a bad weave?
Reporting by Katie Rhames
PICS FROM WEDNESDAY'S TRIP TO THE SALON: