PHOTOS
Lynne Spears Visits K-Fed & the Boys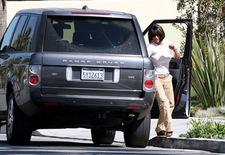 Lynne Spears, who has spent most of her recent time in Louisiana with her pregnant teen star daughter Jamie Lynn Spears, showed up Wednesday morning at Kevin Federline's house in Tarzana, Calif.
The mom of Britney Spears was there to visit her two grandsons, Jayden James, 1, and two-year-old Sean Preston. Since Britney's release from the hospital over a month ago, Kevin has been growing ever closer to his former in-laws, even playing a round of golf with Brit's dad, Jamie Spears, over the weekend.
Article continues below advertisement
Following her visit with the tots, Lynne headed over to the set of How I Met Your Mother to watch Britney hard at work on the hit CBS sitcom. The pop star, who arrived at the studio around 7:30am on Monday with two bodyguards, will star in a guest role as a receptionist.
This marks her second stab at sitcom stardom, almost two years exactly after making a cameo appearance on an episode of Will & Grace.