PHOTOS
Madonna Appeals Adoption Denial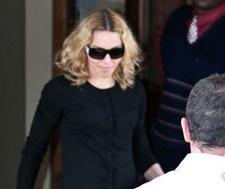 Only hours after she had been denied the chance to adopt by a Malawian High Court, lawyers for Madonna have filed an appeal with the African nation's Supreme Court.
"I just filed the notice of appeal this afternoon on instructions from my client," the singer's legal eagle, Alan Chinula, told Reuters on Friday afternoon.
Earlier in the day, the High Court of Malawi denied the singer's request to adopt a young orphaned girl.
Article continues below advertisement
"Anyone could come to Malawi and quickly arrange for an adoption that might have grave consequences on the very children that the law seeks to protect," Judge Esimie Chombo stated in her ruling.
Though Madge's bid to adopt 4-year-old Mercy James has been a divisive issue in Malawi, the court's decision comes as a bit of a suprise. Only yesterday, Malawian Information Minister Patricia Kaliati had come out in support of Madonna, saying that the Material Girl's support for Malawian orphans had proven her worth as an adoptive mother.
However, it ultimately came down to the fact that Madonna did not fulfill the residency requirements for adopting a child in Malawi. The singer has no permanent home in the African nation, where a residency period of at least 18 months is usually required before being allowed to adopt.
Of course, the pop star was able to overcome this requirement when she adopted her first child from Malawi. In 2006, Madonna began the controversial process of becoming mom to infant boy David Banda. That adoption was not completed until 2008.
PHOTOS OF MADONNA & FAMILY IN MALAWI: